Masters of Horror Exclusive Coverage

Masters of Horror Exclusive Coverage
The making of Masters of Horror video, interviews, photos, and much more!
The Masters of Horror -- 13 one-hour episodes (think Twilight Zone, Outer Limits, with huge name horror directors) -- debuted on October 28, 2005, on the Showtime Network. There are 12 more horror episodes lined up for the coming weeks.Sometime next year, they will get deluxe treatment on DVD.

The director list, the "Masters" if you will, for this project is incredible. Just to name drop a few:

Dario Argento (Suspiria, Opera), Don Coscarelli (Phantasm, Bubba Ho-Tep), George Romero (king of zombies, need we say more?), John Carpenter (Halloween, The Thing), John Landis (An American Werewolf in London), Rob Zombie (House of 1000 Corpses, The Devil? Rejects, and we've heard he's in a band too), Roger Corman (Little Shop of Horrors, Frankenstein Unbound), and Tobe Hooper (Texas Chainsaw Massacre, Poltergeist).

Rumors have been flying about who else might eventually be involved and those names include everyone from legendary Japanese freak-show king Takashi Miike (Ichi the Killer, Visitor Q) to Canadian mind blower David Cronenberg (The Fly, Dead Ringers). Regardless of who is or is not added later, with all of the talent already confirmed, this project would have to try very hard to be anything less than amazing. We here at Horror.com can't wait!

With that in mind, we are very proud to be able to offer you a behind-the-scenes peek at one of the episodes of the upcoming series. Mick Garris, Henry Thomas, and others involved were kind enough to let us film a "making of" documentary for the Masters of Horror episode they were working on called "Chocolate". Forget that Willy Wonka remake and pay attention to this! Staci spent some quality time on the set with the "Chocolate" cast and crew, and we are sure you'll be impressed with the result.

Check out Horror.com video feature on the making of the Masters of Horror "Chocolate" episode - and tell your friends (if you don't have any, tell strangers)!


Masters of Horror
The Making of "Chocolate":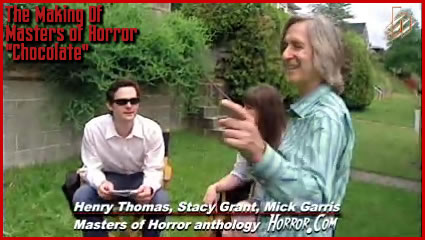 Click The Image Above To View The Making of Chocolate Video.
But that's not all! We've got a lot more Masters of Horror coverage for you:
Masters of Horror Exclusives from Horror.com

Video Interviews
See and hear what the Masters (Romero, Hooper, etc.) themselves have to say about the project.

Set Visit
A report directly from the set of Masters of Horror which was written partially as a preview to the video above.
Text Interviews
If you know how to read, check out these interviews with Robert Englund, Don Coscarelli & other Masters of Horror.
Photo Gallery
Our exclusive Horror.com image gallery featuring over 100 exclusive photos from the Masters of Horror project!
Horror.com's latest Masters of Horror coverage:

Keep checking back - we've got even more Masters of Horror coverage coming at you!
If you still haven't had enough, don't forget to visit the official Masters of Horror website.