Shriekfest Short Film Reviews & Festival Winners 2012

Shriekfest Short Film Reviews & Festival Winners 2012
Staci Layne Wilson reporting
There are a few horror film festivals in L.A., annually. My favorites just happen to be run by women: Heidi Honeycutt and Shannon Lark do Viscera (1 day), and that one is up first in the spring; then in October there's Denise Gossett's Shriekfest (3 days) first, followed by Rachel Belofsky's Screamfest (a week).
Each of these has grown over the years (I've been on the scene of all of them, over the many step-and-repeats — it's one of my great joys to help promote indie filmmakers), but one thing that sets Shriekfest apart is its stick to-it-iveness… it's one of the few fests that's stayed put. Always at the wonderful, historic Raleigh Studios in Hollywood, and always with a cool kick-off party to launch the night before, and a short but sweet awards ceremony inside the theater afterwards, Shriekfest has a comfy routine you can always count on. I like that.
And something I like even better is the always-improving spate of shorts and features. I suppose some of that can be attributed to the advent of ease of DIY filmmaking. Movies just look so much better these days. Thanks to digital cameras and home-editing systems, clouds, ftps and the like, crews can works together from all over the world. It's a beautiful thing.
Interestingly enough, the barest-bones short I saw at the fest, the one with the fewest discernible bells and whistles, was actually my favorite. It's one of those Stephen King "dollar babies" (usually, those are not too good…) and is the one about the self-cannibalizing surgeon. It's called Survivor Type, and it's basically a found-footage film (I believe in the short story it's based on, somebody finds the doctor's diary) with a super-simple premise and no frills look. What sells it as one of the most intense and suspenseful horror things I've seen in quite awhile is the stellar acting performance by Gideon Emery, augmented by a real sense of suspense by director Billy Hansen. Having King's own words to live (and die!) by certainly don't hurt. And what's more, as Hansen says, "I was born and raised in Maine, so I've been a Stephen King fan since conception."
Some other of my favorite shorts included comedies (oddly enough, since my personal tastes don't normally flow that way) — The Sleepover, about kids and baby-sitters who live in a neighborhood populated by bogeymen; The Dump, about serial-killer strangers who meet by chance one day while dumping bodies; and Stay At Home Dad, a Lovecraftian tale of fatherhood gone terribly, terribly wrong.
As a matter of fact, I noticed there were quite a few pregnancy and birth related horror movies at the festival. Check it out!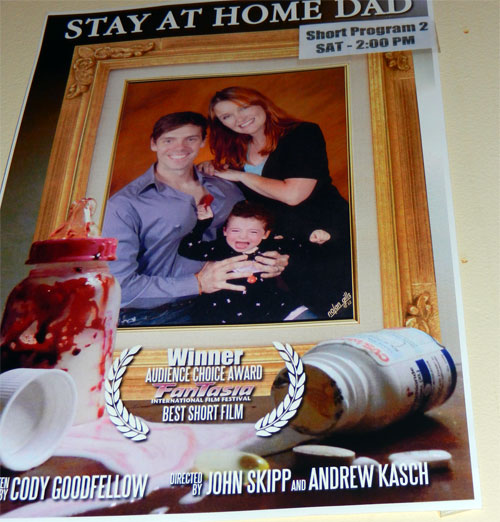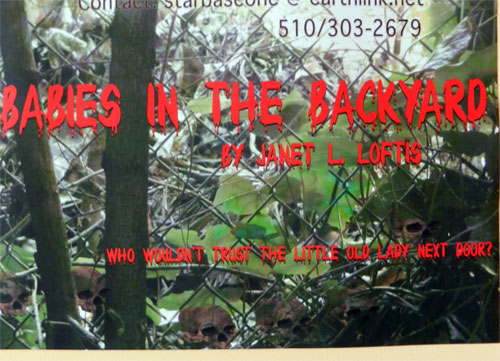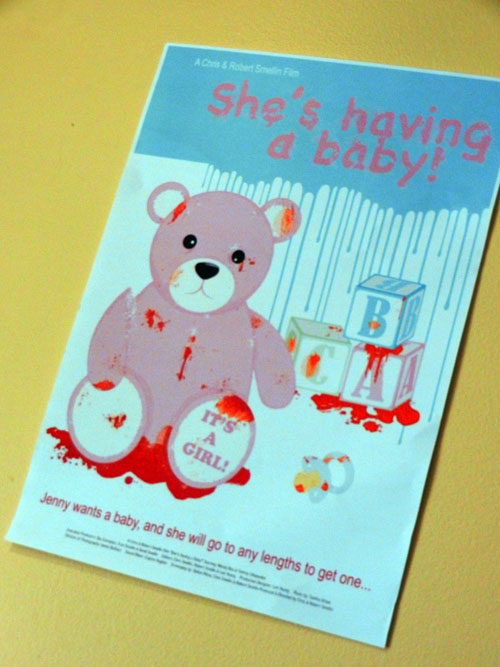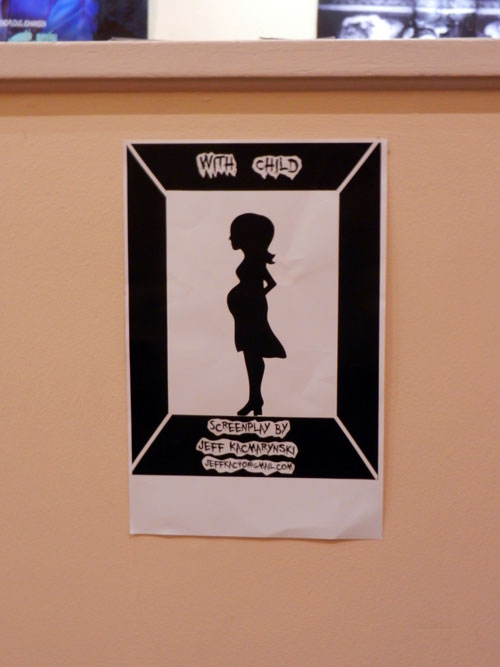 Not to mention Hansen mentioning his conception, and another of the filmmakers, Rebekah McKendry (The Dump), being pregnant with her first child.
So, winners were announced the other day. I may be a diehard fan and a flagless reporter, but even I couldn't make it through the whole thing… Shriekfest screened almost 40 films and had 30 screenplay finalists and 10 original song finalists!
Nailbiter directed by Patrick Rea took the Grand Jury prize for Best Horror Feature Film, which I was happy to hear. When I ran into Rea at the festival, he told me Nailbiter was slightly edited, and I'm assuming, tightened a bit, since I got a screener some time ago. I really liked the film, but did feel it needed just a couple of trims here and there. Here's my original review of Nailbiter.
Found In Time directed by Arthur Vincie took the Best SciFi Feature Film award, and It's In the Blood directed by Scooter Downey took the Best Thriller Feature Film award.
Blackout directed by James Bushe took the Best Horror Short Film prize, A Light in the Darkness directed by Fed Wetherbee won the Best SciFi Short Film Award and The Sleepover directed by Chris Cullari took the best Super Short Film Award.
The winner of the Best Horror Feature Screenplay went to Nevermore written by David Beran and the winner of the Best Sci-Fi Feature Screenplay goes to When the Sleeper Wakes written by James Van Fleet.
Latest User Comments:
With child
LOL! Nice to see that my screenplay was among the "pregnancy" themed genre this year!! Actually it won the award for passing the The Bechdel Test..aka The Bitch Pack Award. Sadly it did not get mentioned in the press because I guess it was not entirely an official Shriekfest award...so a little plug for me LOL :p
10-10-2012 by Jeff Kacmarynski
discuss