Halloween Horror Nights - Universal Studios, Hollywood

Halloween Horror Nights - Universal Studios, Hollywood
Staci Layne Wilson reporting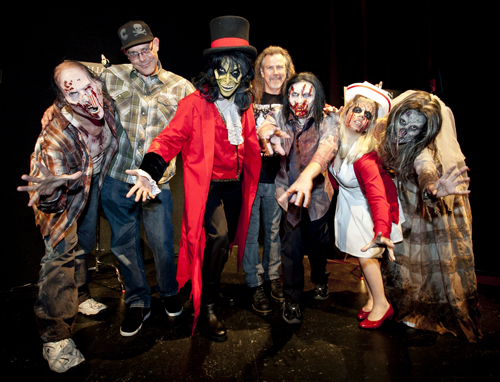 John Murdy, Larry Bones, & fiends
It's that time of the year again! Universal Studios, home of the best original classic monsters (Frankenstein, Dracula, The Mummy) opens its creaky doors to some of the scariest slashers of modern times (The Walking Dead, House of 1000 Corpses, Alice Cooper in Hell) and rebuilds their entire theme park to suit them — and the hundreds of thousands of horror fans who will pour through the monstrous mazes from September 21 through October 31.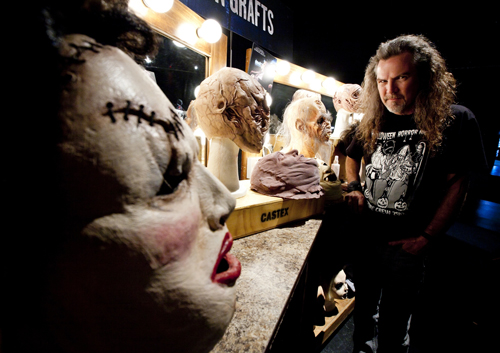 Larry Bones
We here at Horror.com have been covering the event for years, but 2012 looks to be the biggest and the best. Alice Cooper and Rob Zombie return with their personalized (un)fun houses, while newly minted mazes will include The Texas Chainsaw Massacre: This Is the Law and also one dead-icated the AMC's The Walking Dead. Another newbie is Welcome to Silent Hill, while fan fave La Llorona returns with a couple of fresh twists in store.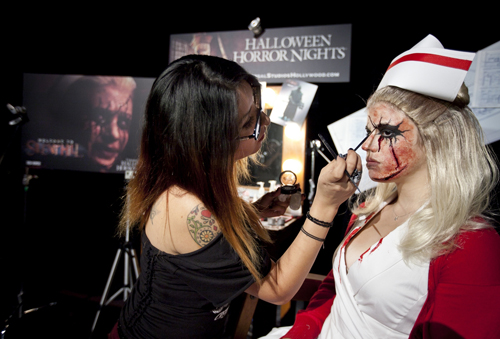 A character gets into character

At the preview event exclusively for press last week, Universal Studios' creative director John Murdy showed us around the elaborately decorated salon (the same ballroom where the Eyegore Awards will take place next week). A mob of makeup artists gave live demonstrations and several mock displays were set up to approximate what we'll see at the official unveiling next week. Looks like they'll have some amazing actors playing the parts of Alice Cooper, hot undead nurses from Silent Hill, and Leatherface, to name just a few.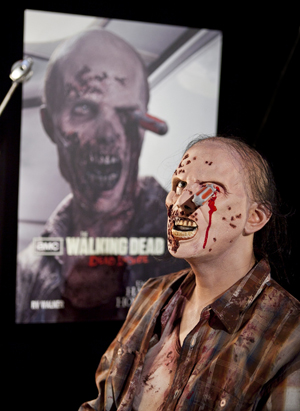 Walking Dead's got its eyes on you
Murdy said E/FX wizard Greg Nicotero and his team personally worked on The Walking Dead Maze to make it as authentic as possible. He also promised the Welcome to Silent Hill Maze would not only blend the game and film genres, but that it would be among their bloodiest attractions yet. What's more, the Terror Tram and Universal Monsters Remix return, as do the costumed actors who'll roam the park on these cool winter nights, jumping out and scaring everyone.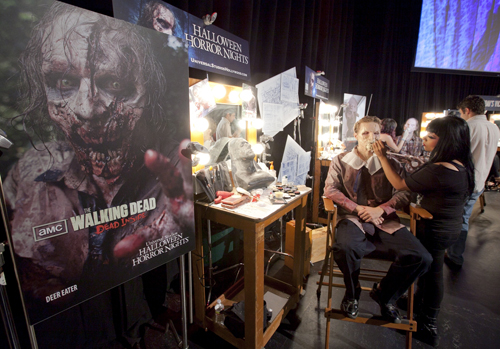 Halloween Horror Nights kicks off on Friday, September 21, 2012 and continues on select nights through Wednesday, October 31. Event dates are: September 21, 22, 28, and 29 and October 5, 6, 7, 12, 13, 14, 18, 19, 20, 21, 25, 26, 27, 28 and 31. Tickets and vacation packages are currently on sale. Further details on Halloween Horror Nights are available at Halloween Horror Nights.com