Blade: Trinity - Interviews, Premiere, Review, and Picture Gallery

Blade: Trinity - Interviews, Premiere, Review, and Picture Gallery
"Blade: Trinity" coverage featuring reviews, interviews, images, and video.
The third (and final?) movie in the Wesley Snipes vampire saga, "Blade", has arrived. "Blade: Trinity" stars Jessica Biel as Whistler's daughter and sees Wesley Snipes joining forces with another group of vampire hunters in an all out war with the Vampire Nation.

Horror.com not only has a batch of (video) interviews with the director and stars, we've also got exclusive red carpet coverage featuring Jessica Biel and David Goyer. But that's not all - check out our great "Blade: Trinity" image gallery featuring exclusive "Blade" pictures that you won't find anywhere else.
"Blade: Trinity" Interviews: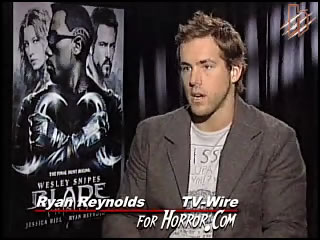 Click The Image Above To View The "Blade: Trinity" Interviews.
Click here to see exclusive pics of the "Blade: Trinity" premiere, featuring images of Jessica Biel, Alanis Morissette, Kevin Smith, Stephanie McMahon, and other celebs!
Come back soon for Horror.com's exclusive interviews with Jessica Biel and other "Blade 3" stars!
Latest User Comments:
Re: Blade III
[QUOTE][i]Originally posted by Rebecca [/i] [B]not as good as the part II, no feeling .... [/B][/QUOTE] ...agree ...it felt cheap and dumb
10-06-2005 by slasherman
discuss
Blade III
not as good as the part II, no feeling ....
09-28-2005 by Rebecca
discuss