2004 Saturn Awards
Exclusive coverage from The Academy of Science Fiction Fantasy & Horror Films 2004 award show.
Horror.com's Staci Lane Wilson attended this year's Saturn Awards. She talked with all kinds of horror and SciFi personalities from James "Aliens" Cameron to Kevin "Hercules" Sorbo to Sean "Bladerunner" Young to Ron "Hellboy" Perlman and many more. Luckily for us, Staci brought along her camera, so click below to find out what the winners (and even the non-winners) had to say: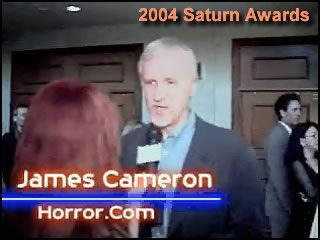 Click The Image Above To View The 2004 Saturn Awards Video.
Also check out the Horror.com 2004 Saturn Awards picture gallery,
click here
!