Exclusive "Taking Lives" Premiere Coverage

Exclusive "Taking Lives" Premiere Coverage
Horror.com takes you inside the world premiere of the new movie, "Taking Lives."
"Taking Lives", the new thriller starring Angelina Jolie and Ethan Hawke is in theaters. Before the official opening, though, Horror.com's Staci Wilson had a chance to attend the world premiere and talk to the stars. Here's Staci...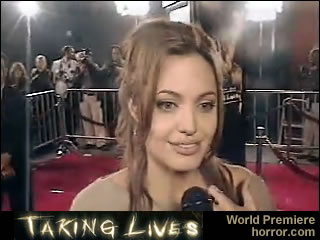 Click The Image Above To View The Premiere Video.
Don't forget to read Horror.com's
review
of "Taking Lives".
Latest User Comments:
ccccccccccccccccccccccccccccccccccccccccccc vooooooooooooooooooooooooooooooo ooooooooooooooooooooooooooooooooo lllllllllllllllllllllllllllllllllllllllllllllllllllllllllllllllllllllllllllllllllllllll llllllllllllllllllllllllllllllllllllllllllllllllllllllllllllllllllllllllllllllllllllll lllllllllllllllllllllllllllllllllllllllll!!!!!!!!!!!!!!!!!!!!!!!!!!! !!!!!!!!!!!!!!!!!!!!!!!!!!!!!!!!
05-27-2004 by johnnyno1
discuss
angelina jolie rocks i should know
05-27-2004 by mes
discuss