Con of the Dead - Tattoo You & FEARnet Party at Comic-Con 2012

Con of the Dead - Tattoo You & FEARnet Party at Comic-Con 2012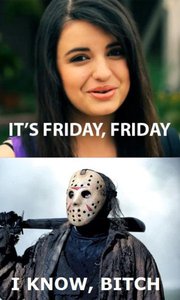 It was Friday the 13th when I arrived in San Diego for my 10th Comic-Con in a row. I was decked out in my Friday the 13th Jason hockey mask tee partially for me, and partially to help promote Peter Bracke's book, "Crystal Lake Memories". With the face on the front and the blurb on the back, off I went to collect my press pass and melt into the sea of dorkdom. I think I managed to 'sell' at least one book though, before absorption.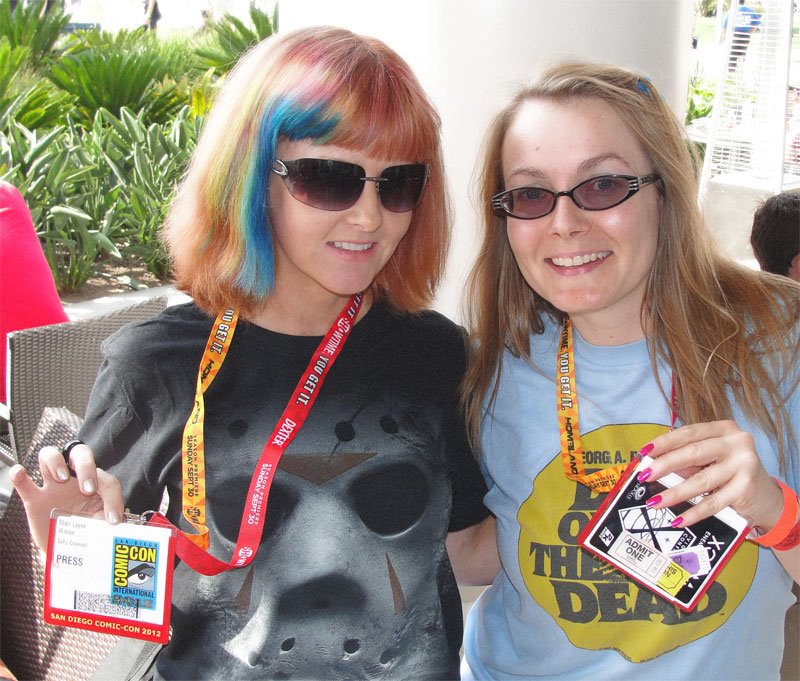 This was actually one of the better times I had getting my pass and tote (I got a coveted design, for a change! Hello, eBay), easy-peasy and pain-free. Rather than allowing myself be lured onto the Con floor to peruse and people-watch, I headed straight for interview-central, which has been, for a few years now, the Hilton Batfront across the street from the San Diego Convention Center. Relatively crowd-free, air conditioned to crisp coolness and wi-fi friendly, this is the place for me. Did some interviews (OK: a lot of interviews), and then it was time to shirk Jason, don the sexy sheath-dress, and hit the big parties.
Parties, especially for we press peeps, is the carrot — or the bloody mary with a celery stick, as the case may be — dangling at the end of a long work day. There were a few exclusive fetes, but my favorite was definitely the hybrid celeb/fan event, Con of the Dead, sponsored by horror network and website FEARnet and co-conspirators DreadCentral.com and Resident Evil6 PR to name a couple.
Held at the Voyeur Nightclub on Fifth Street, the gala went to the rafters — literally. Hanging from said rafters were "zombies" in various states of decomposition. Seemingly disembodied heads were stationed on silver platters at the food stations (no kidding — and they were real, living and breathing human beings… as were the many mingling monstrous types and the "undead" bartenders). There was a dance floor and a velvet roped-off VIP platform, not to mention genre icons floating in and out of the geek squads — I spotted Doug Jones (The Silver Surfer), Darren Lynn Bousman (director of Saws 2, 3, and 4), Joe Bishara (the fire-faced demon from Insidious), and Sid Haig ("Captain Spaulding") to name a few.
Larry Zerner, actor from Friday the 13th 3 -- and the man(iac) of the hour
There was a photo-booth with petrifying and putrid props set up for the peachiest poses, as well as a dessert tray with "blood flecked" cupcakes and chocolate pudding riddled with gummy worms.
Check out our photos below, then be sure and read my pre-open bar articles and interviews with the stars of Total Recall, Paranorman, and Looper.
Staci Layne Wilson reporting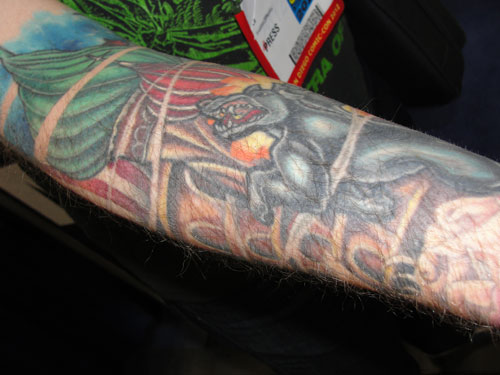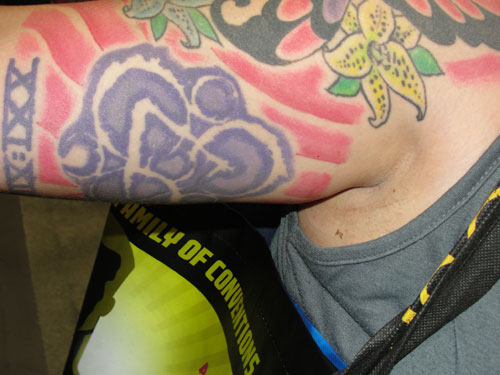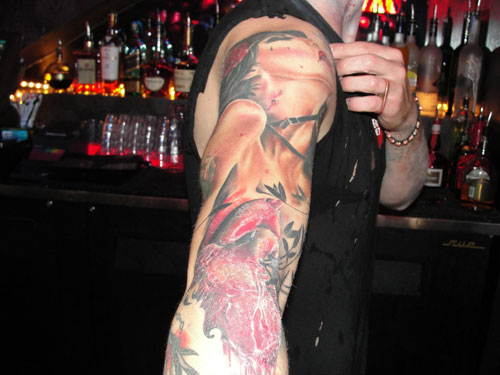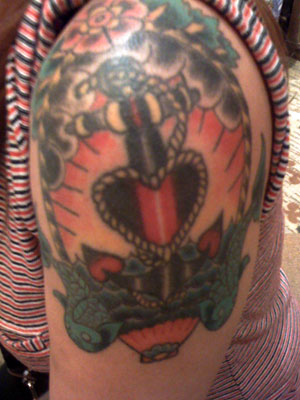 [end]