Comic-Con: Saturday [mini]Report & Photos

Comic-Con: Saturday [mini]Report & Photos
Sucker Punch, Resident Evil 4 in 3D, Let Me In, True Blood, V...
by Staci Layne Wilson
Saturday: The Wrath of Con
Saturday was wrap-up day for us, and it was a very long one — beginning at 6 .a.m., walking several miles all-told, doing dozens of interviews, and finally wrapping up after midnight, with a 2+ hour drive home from lovely downtown San Diego.
Most of what was done on Saturday is on video, so this is just a little rundown of what you can look forward to: Sucker Punch, Resident Evil 4 in 3D, and lots of delving into the upcoming vampire movie from Hammer Films and Matt "Cloverfield" Reeves, Let Me In.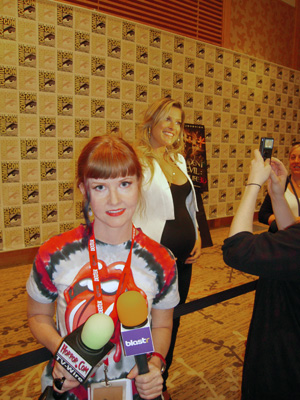 Your intrepid reporter here, covering the Resident Evil 4 3D red carpet for horror.com and another outlet (earlier, I was actually holding a trio of mics and director Paul W.S. Anderson commented, "Look, you're in 3D!"). Note Ali Larter in the background, who returns as Claire Redfield. She's a few months pregnant, and not only did see look amazing she gave an excellent interview -- you'll see! (Video posting closer to the film's release date)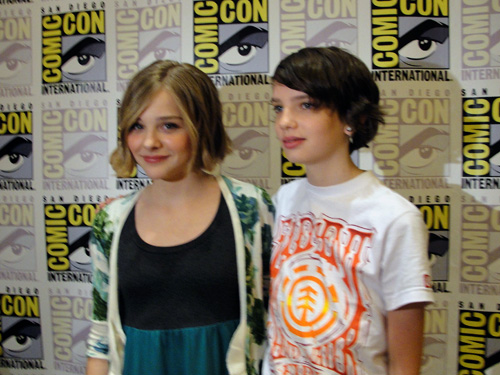 Chloe Moretz and Kodi Smit-McPhee, who play lonely children in the upcoming horror-drama, Let Me In. Let Me In is based upon the novel John Ajvide Lindqvist and the Scandinavian film, Let The Right One In. Chloe's character, Abby, is a vampire, and Kodi's is Owen, an isolated boy in need of a true friend.
Director Matt Reeves said that while he does love the original film, his take will be different in that it's more close-in and intimate. He will not have as many masters and long shots which he says keep the audience at arm's length and feel "chilly."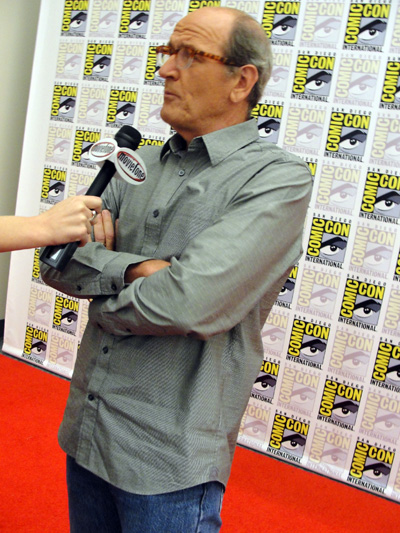 The fantastic Richard Jenkins, who I loved on Six Feet Under, plays Chloe's "father" in the movie (if you've seen Let The Right One In, you know what I'm talking about... if you have not, then I shan't spoil it). He says his role is much-expanded.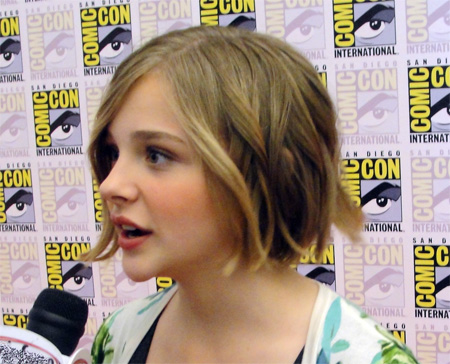 It was five years ago, for The Amityville Horror, that we first interviewed Chloe on-camera! Here is the clip - she was already a little horror movie fan, and so cute! She's really growing up into a fine actress.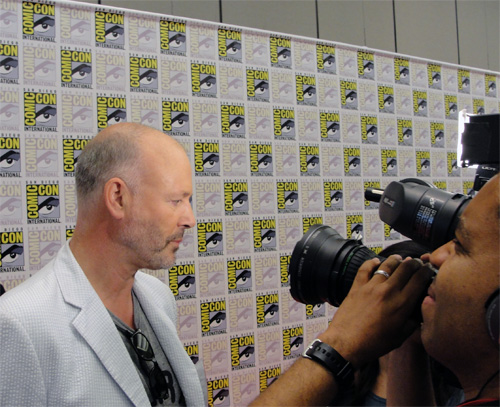 Simon Oakes, an executive and creative force for the newly-invigorated Hammer Films, not only talked about Let Me In, but it was at Comic-Con that he announced the casting of Daniel Radcliffe in the much-anticipated next Hammer horror film, The Woman In Black (which is based on the revered novel by Susan Hill).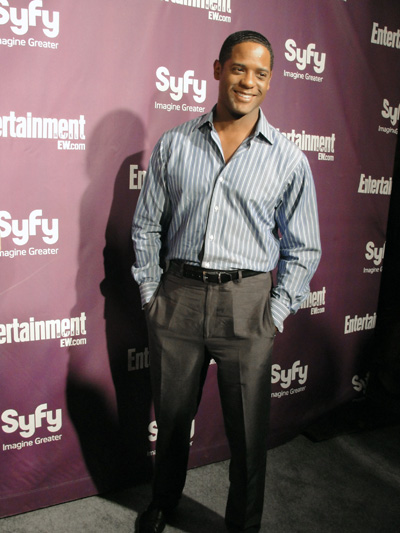 Blair Underwood was at Comic-Con to participate in a panel and do interviews for The Event, a new action/mythology based series debuting on NBC this fall. The Event, from what I gathered, is a little 24 with a dash of Flashforward. Sounds good to me. (On a personal note, it was nice to have the opportunity to tell him how much I liked him in Dirty Sexy Money and In Treatment!)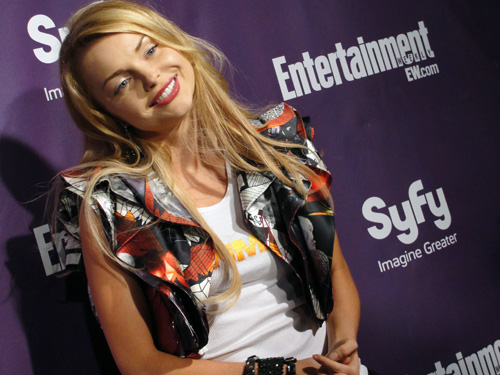 The lovely Izabella Miko, who I first met in 2001, when I interviewed her for The Forsaken. She played a vampire in that movie, and she is seemingly ageless... coincidence?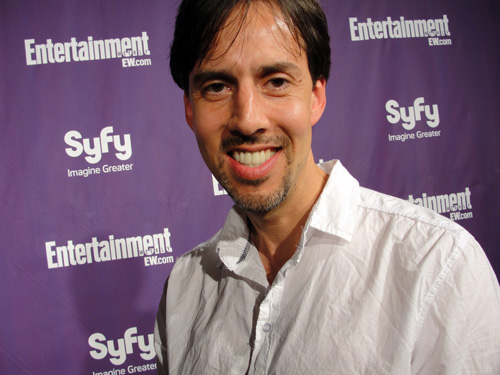 This is Jaime Paglia, the creator of the Syfy original series, Eureka. He's enjoying quite a bit of success with the show's kudos, so was in a great mood to chat on that *very* crowded press line.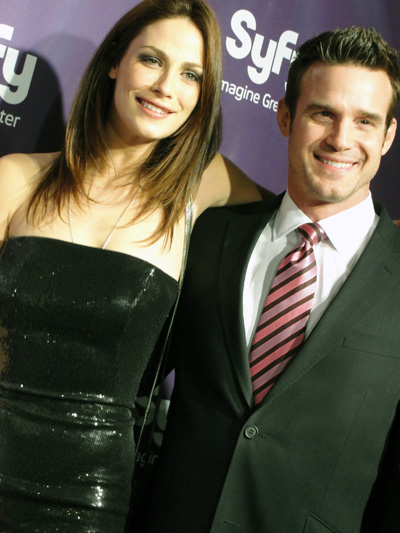 Joanne Kelly and Eddie McClintock from Warehouse 13, a show I definitely want to start watching (to me, it seems like of like the old TV series Friday the 13th mixed with The Librarian movies). These two were a riot together - a real pleasure to talk to.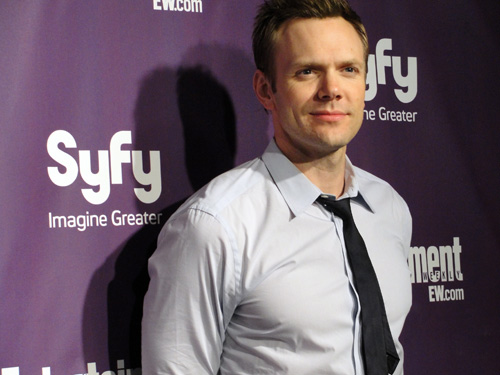 Joel McHale was awesome! Throughout the entire Con, people in general were wondering why on earth his half-hour non-genre sitcom, Community, had a panel and was represented that weekend. Actually, most were a bit miffed because Comic-Con is getting further and further away from not only comics, but genre in general. However, when I asked Joel about it, he solved the "mystery" -- the cast of characters in Community now have their own series of comic books!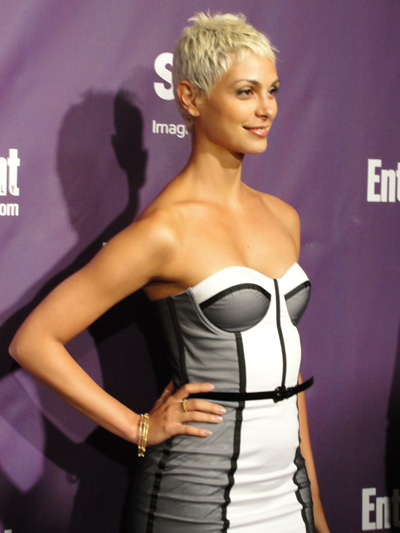 Monica Baraccin from the scary and suspenseful sci-fi series, V. I remember covering V at last year's Comic-Con, when the show was only known as a remake of the 80s miniseries. Now it's got its own strong following and left us on a great cliffhanger in which Monica's character, alien Anna, has become infuriated with humans and turned the sky blood-red. What's next...?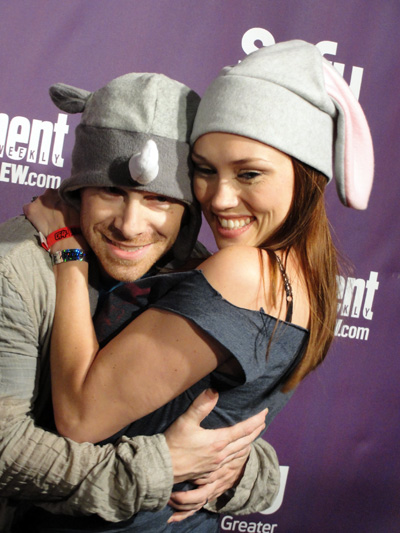 Seth Green was there with his new bride, Clare Grant -- Seth's been in lots of scary movies, but you may not be as familiar with Clare's work; she was great as Valerie in the Clive Barker / Mick Garris joint production of Valerie On The Stairs for Masters of Horror.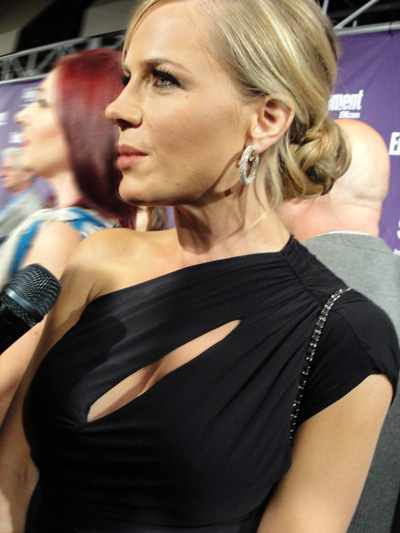 Julie Benz, formerly on Dexter as the cutting killer's wife, will next be seen on No Ordinary Family, sort of a live-action The Incredibles, alongside Michael Chiklis. Julie was as gracious and delightful to chat with as ever, and I have to say Chiklis surprisd me by being the same -- when I've interviewed him in the past (for The Shield, and The Fantastic Four), he's been a bit curt. But this time, he was almost cuddly! Nice change.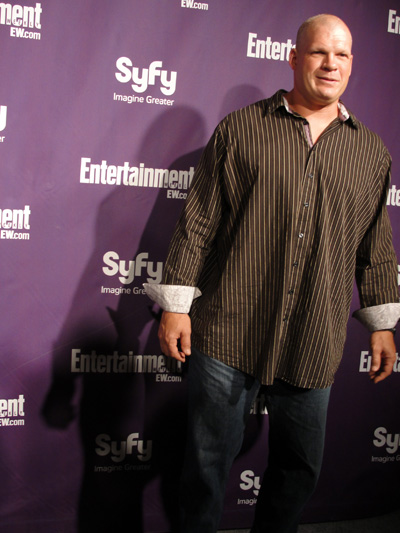 Wrestler Kane has a show on USA now, but I'll always remember him from See No Evil. I believe I was one of only three people who actually liked that movie!
Kodi Smit-McPhee was back on the press line, after having spent all day talking about Let Me In. The bratty little Brit made fun of my American accent -- but the mocking was all in good fun.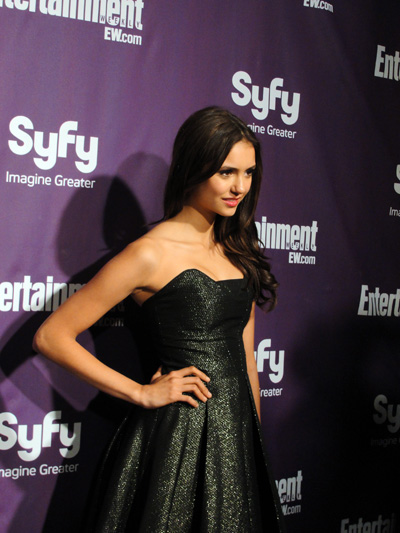 Nina Dobrev was there, along with costars Ian Sommerhalder and Paul Wesley, to talk about new entries in The Vampire Diaries.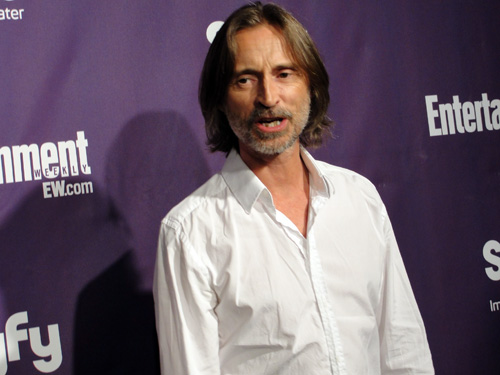 Robert Carlyle seemed to genuinely appreciate my compliment on his role in Ravenous. Sometimes it's funny, taking it back that far (like, when I told Jennifer Connelly a few months ago how much I like her in Dario Argento's Creepers), but when you do that you can be pretty safe in assuming no-one else among the 100 reporters on the press line asked the same ice-breaker question!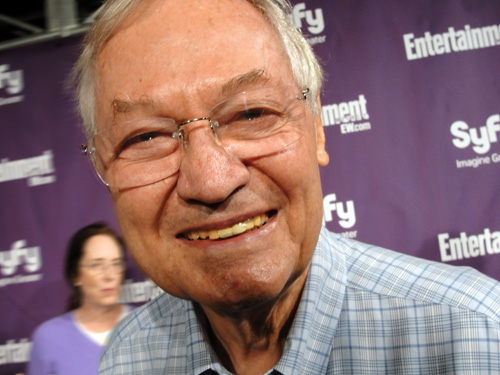 The immortal Roger Corman. One of my favorite people to interview, always!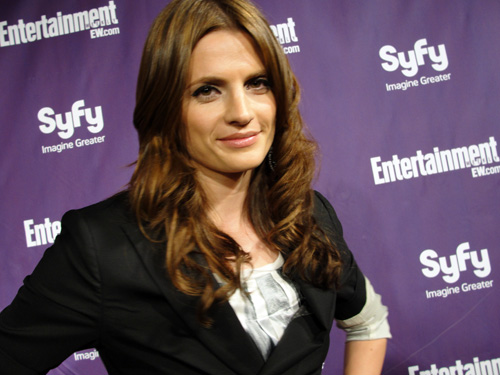 Stana Katic, from Castle. Speaking of favorite people to interview... she's not. She was cordial enough, but there was something very aloof about her. I didn't expect that. But I do think she is great on Castle, and with Nathan Fillion (who could not be warmer or funnier), there is real chemistry.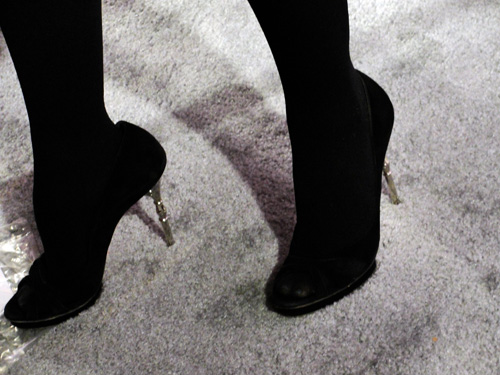 Stana's taste in shoes, however, is beyond reproach!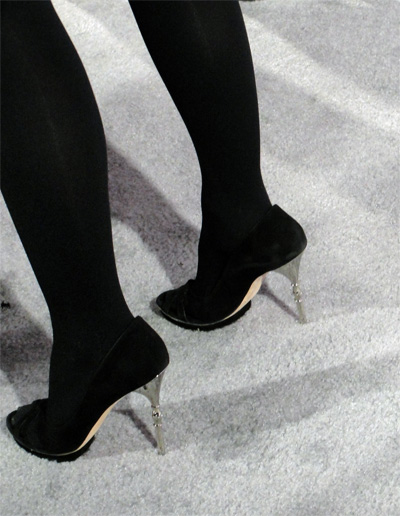 These heels could be used as the murder weapon on an upcoming episode of Castle.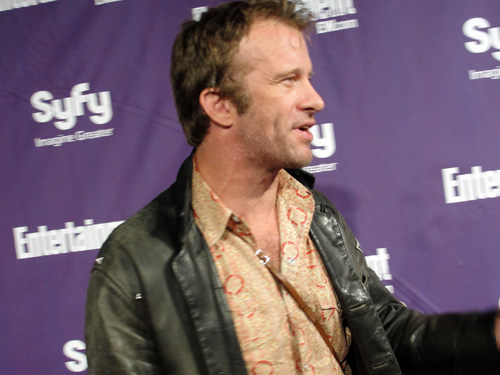 Thomas Jane, whose last bonafide horror movie was Frank Darabont's The Mist, was on hand here to talk about his racy comedy series Hung and a few film cameos this year. As usual, he did not stop on the press line -- I learned a few years ago that it's not because he thinks he's too cool, but because he's actually nervous and uncomfortable doing interviews. At the 2006 Scream Awards, he bypassed the line, but afterward came over to hang out with the reporters and told us it's nothing personal -- he only stops on press lines when he absolutely has to. After this picture was taken, he stopped and gave autographs to fans, posed for pictures with them, and I even saw him talking on one's cell-phone! Pretty sweet.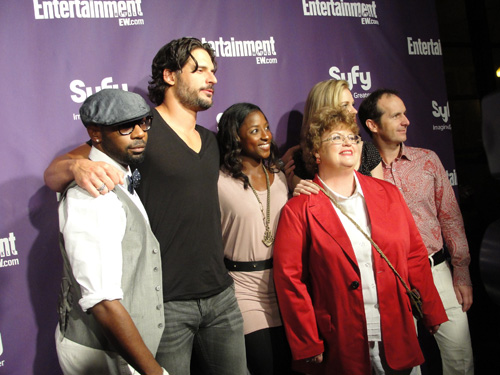 The cast of True Blood, along with author Charlaine Harris (in the red jacket). The line was really jammed by this point in the night, but I did get to talk with werewolf Joe Manganiello and vampire Kristin Bauer about just how much sexier their roles can possibly get in upcoming episiodes (video on the way!)
Tyrese Gibson (Death Race, Legion) seemed to be feeling no pain that night, and when I asked him why his fly was down, he said "It's all about promotion, baby!"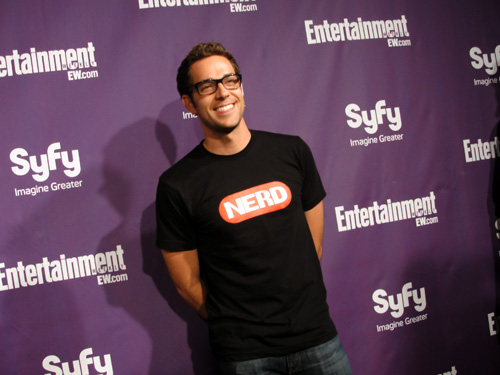 Zach Levi seems to have changed since the success of Chuck... I doubt we'll be seeing him in any more Adam Green movies and doing signings at the Dark Delicacies Horror Bookstore anytime soon!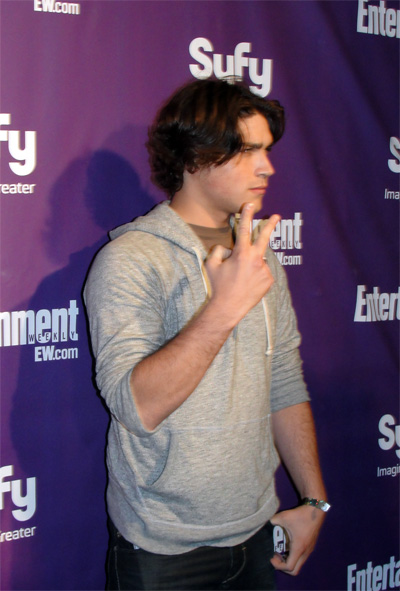 Logan Huffman from V, giving the old victory sign! The show was saved from cancellation by its hardcore fans, so next season, Logan promises, will be worth their efforts.
That's about it, till the videos are live. I leave you with my three-mic salute! (I was also taking stills in-between interviews ;)