Comic-Con: Friday Report & Photos

Comic-Con: Friday Report & Photos
Piranha 3D, Priest 3D, and Green Hornet
by Staci Layne Wilson
Friday - A Bloody Bloodbath of Bloodiness
Previous Article: Thursday - Is it Nerdy in Here, or is it Just Me?
Next Article: Saturday - The Wrath of Con
Friday was all about Piranha 3D for me. I covered it from each and every angle, for all three of my outlets. First, I want to give you a few more details about the footage the press was shown the night before. It was actually a very cobbled-together sizzle reel showing all the gratuitous stuff (the bloodiest death sequences, wet tee shirt contests, lesbian lust scenes, and a whole shipload of spoilers). It's hard to tell from that if the movie will sink, swim, or just tread water — director Alexandre Aja and the actors who were there at the Con (Elisabeth Shue, Jerry O'Connell, Steven R. McQueen, Adam Scott and Kelly Brook) said there is a heart and soul to the movie. According to them, it's more like the Irwin Allen movies of the 70s than anything else… but the clips didn't show any of that.

Still, as a beachballs-out on the water horror-comedy, it looks pretty entertaining. The packed theater, all of us donning our 3D glasses handed to us personally by O'Connell, gasped, giggled and gurgled in all the right places (my personal favorites? The Eli Roth beheading scene, and the bikini-clad babe who gets her hair caught in the propeller of a motorboat and gets seriously scalped).


On the morning of Friday July 23, they had the TV (on camera) portion of the press day (and you'll see that video right here at HDC closer to the movie's late August release date), then in the afternoon it was time for 1:1 print, where I was able to have much longer discussions with Aja and the film's producer, Tony Canton. They had some really interesting things to say, and to make the experience that much cooler, I almost got murdered right before the interviews.

At least, I think maybe it could have happened… As I was waiting around, I was drinking a lot of coffee and sure enough nature called (collect) so I headed for the nearest restroom. When I walked inside, it was empty — or so it seemed, at first. It was preternaturally quiet, and there was a weird vibe. I stopped, and looked around. In the handicapped stall (or rather, the stall for the handicapped) I saw a huge pair of sneakered feet. It was either a man, or Carol Blazejowski was at Comic-Con. Either way, it didn't feel right AT ALL, so I left. Of course, being the horror fan that I am, I immediately thought of Maniac, and Aja's own ode to that disturbing bathroom break in High Tension. It got me to thinking about the mind's internal warning bells and how instinct plays into horror movies, and then led to my first question for Alex which was about water, dread of drowning, fear of things you can't see beneath the surface, and so on.

==pics from the junket; Adam Scott, me and Dread Central reporter Annette Slomka, me and Alex Aja (sorry, Alex... caught-ya blinking!), and then my shoe and Elisabeth Shue's shoes.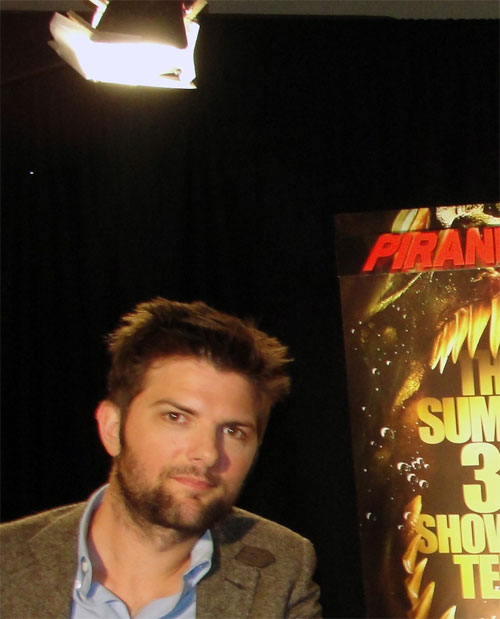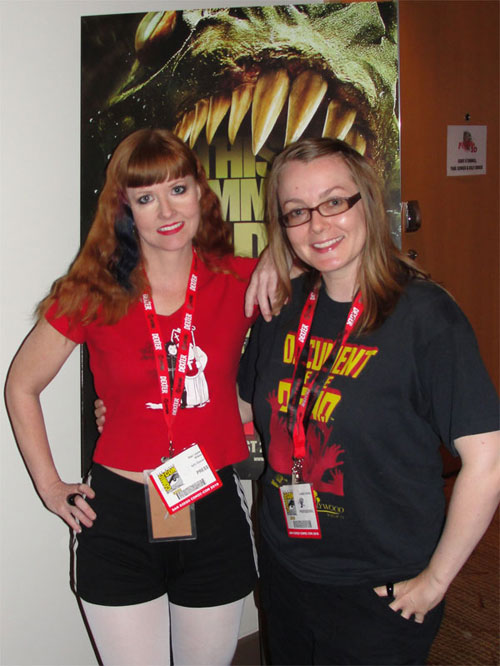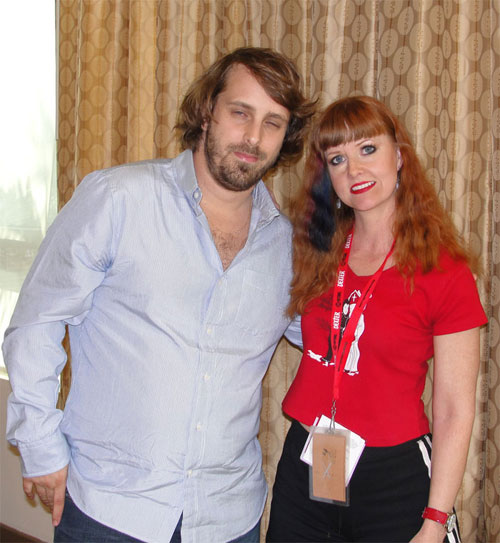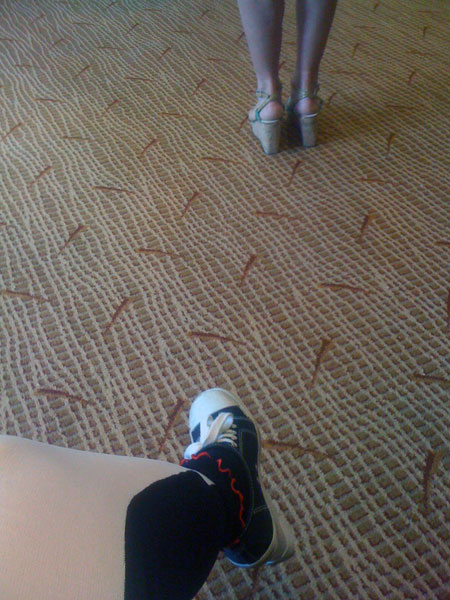 In between Piranha 3D feedings, I saw two little green men (The Green Lantern and The Green Hornet were coloring Comic-Con cool all weekend) and made a confession to the Priest (also in 3D).

Thousands of people camped out all night just for the chance to get into the Green Lantern presentation and Q&A. Ryan Reynolds (who did something very sweet for a kid), Blake Lively, Mark Strong, Peter Sarsgaard, and director Martin Campbell were there. And in this corner we have The Green Lantern, directed by none other than obtuse arthouse darling Michel Gondry (Eternal Sunshine of the Spotless Mind, Be Kind Rewind… and some cool videos for The White Stripes) and starring Seth Rogen. Rogen was there, as was the Black Beauty (this year's hot wheels — every Comic-Con features at least a few… I remember when the Devil's Rejects' Caddy was on display. Now, THAT was something).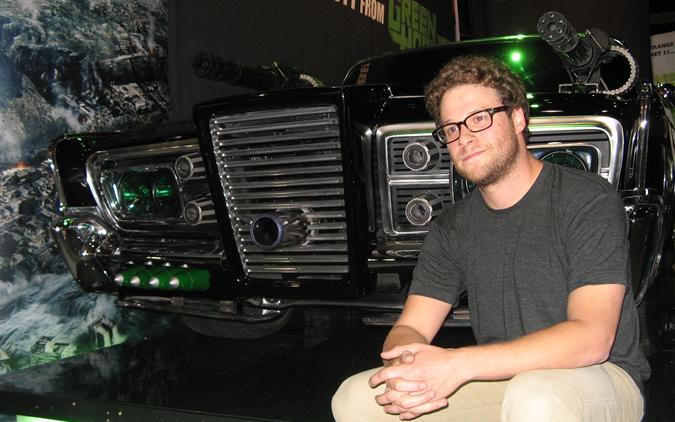 I didn't cover Paul, but I saw its Simon Pegg and Nick Frost (Shaun of the Dead, Hot Fuzz) on the escalator. They looked so incredibly hung over or/and exhausted, they were almost as green as the Hornet or the Lantern (incidentally, the title character of Paul is a "little green man"). Other random celebrity sightings included riding in an elevator with Thomas Jane, passing Morgan Spurlock and his camera crew, and catching a glimpse of Seth… wait for it… Green.

The press line for Priest was pretty fun. I was covering for two of my outlets back-to-back, plus filling in for another reporter — so I was holding three microphones! Everyone made comments, of course… but Karl Urban was the funniest. When I told him he'd sound three times as interesting, he noted the tasty-looking lime and orange mic-foams and mock-licked them like ice cream cones. If only I'd known years ago that's all it would have taken to have that man eating out of my hands! (Not only is he very good-looking, but I tend to forget how funny he is — I first interviewed him on LOTR and then Doom and Pathfinder, then many times for Syfy when he was in Star Trek — he should be doing some comedies… then again, I think he's perfect as a vampire, too!)


Here's Karl on the press line.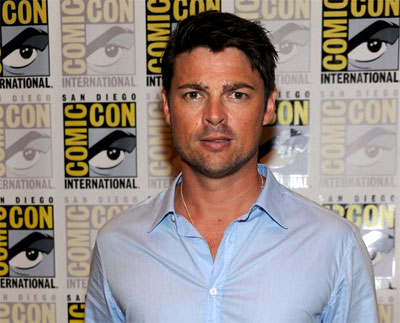 This has nothing whatsoever to do with Comic-Con.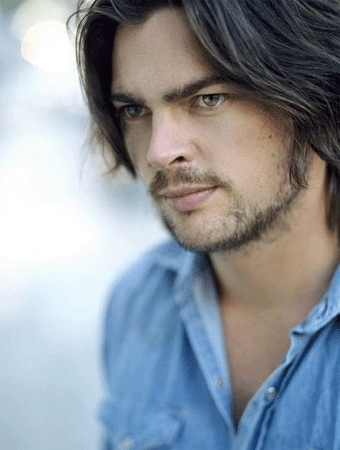 Paul Bettany is also in the movie. In fact, he IS the movie: he's the Priest. Lordy — this is his third religion-soaked movie in a year (Legion, Creation). Paul is also very witty, but quite difficult to interview. He's not the open, go-with-the-flow, giving lots of soundbites kind of funny; he's more snarky, smart-alecky and quippy (those kinds of things don't edit together very well, though they are fun in real time).
In between all the interviews, I managed to snap a few pics in and around the SDCC.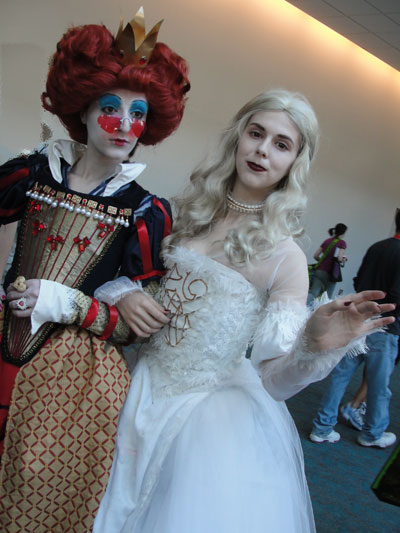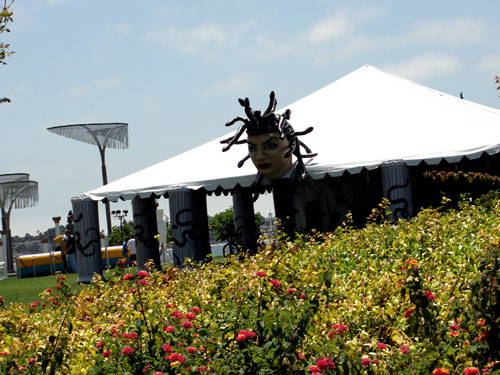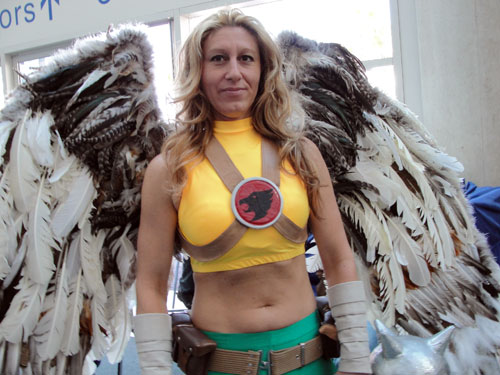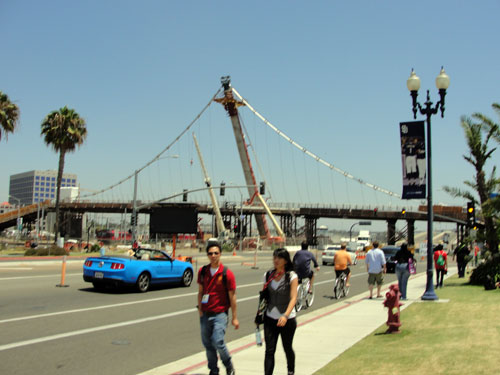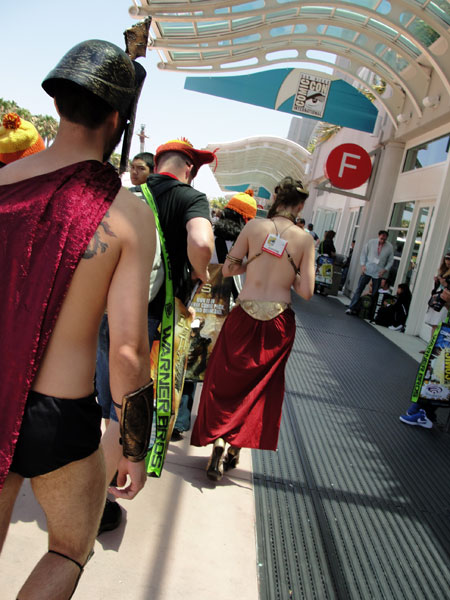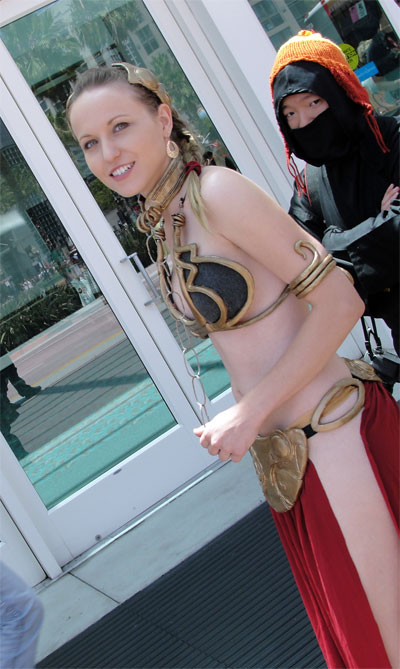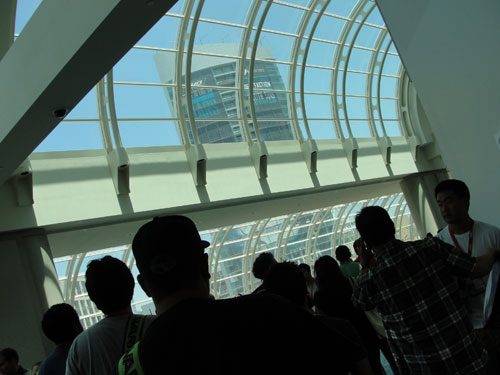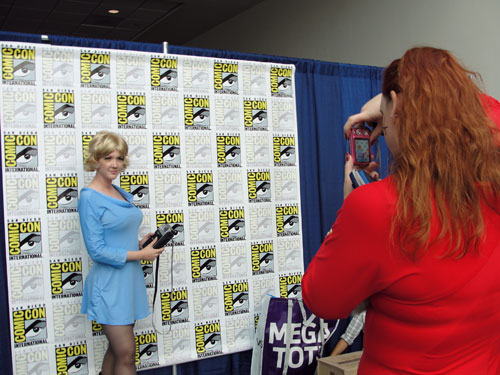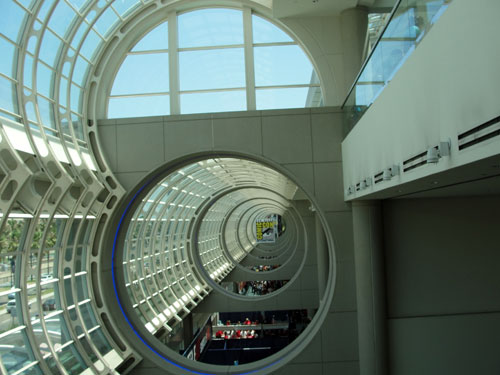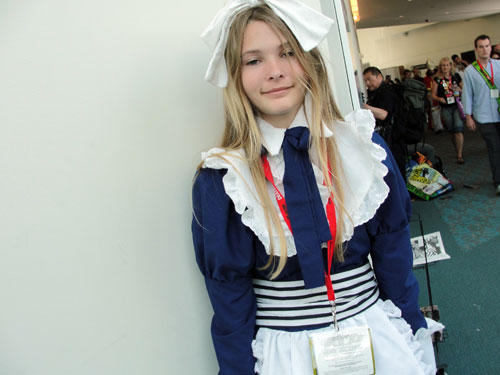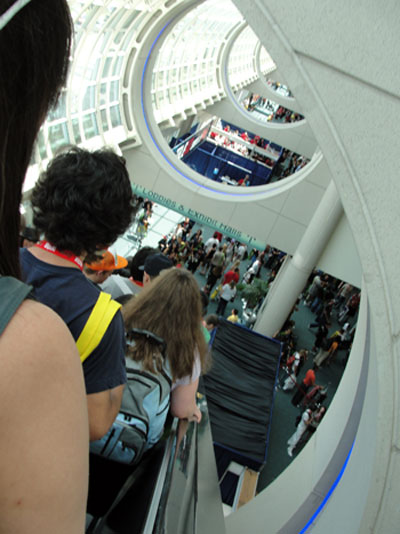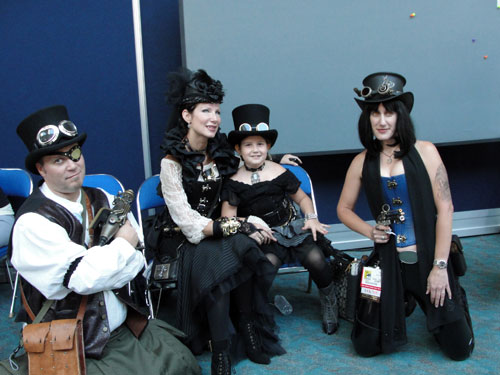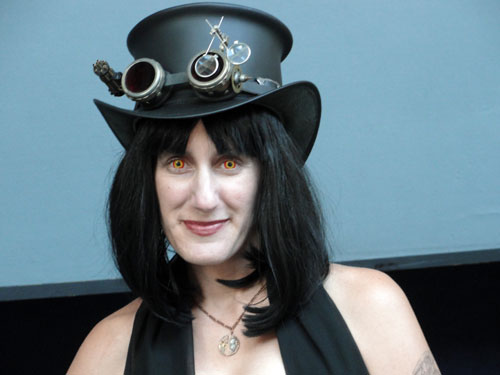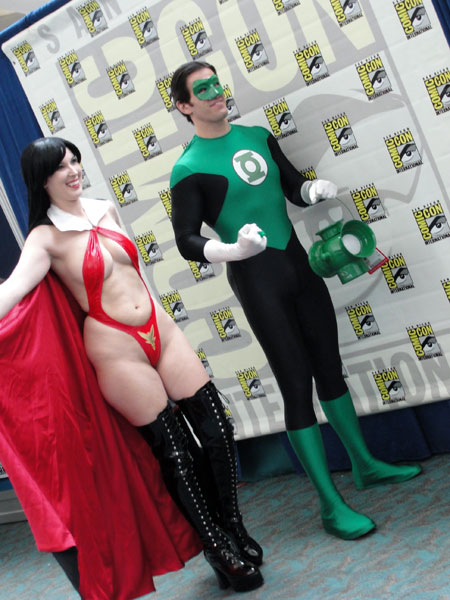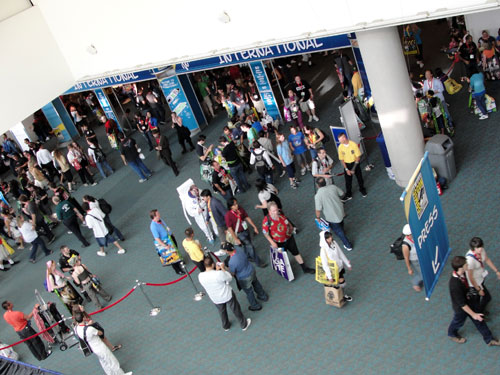 True Blood was everywhere I looked... inside, outside, sides of walls... but it wasn't till the next day, Saturday, that I'd actually get to talk to some of the vamps and werewolves.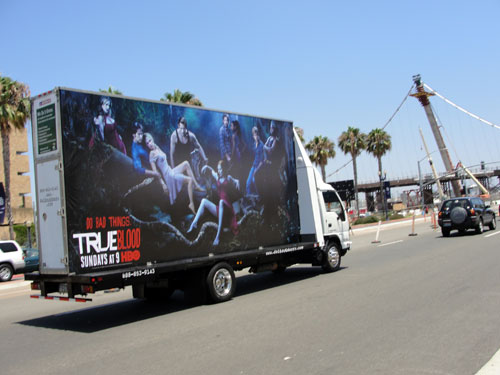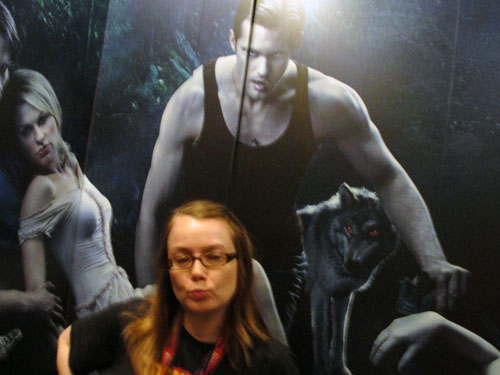 After the day was done, it was CELEBRATION TIME! We hit the Piranha 3D pool party (apropos, right?) for a bit, then the pizza gala for Let Me In (pepperoni and vampires, they go together like Rubik and cubes… don't they?).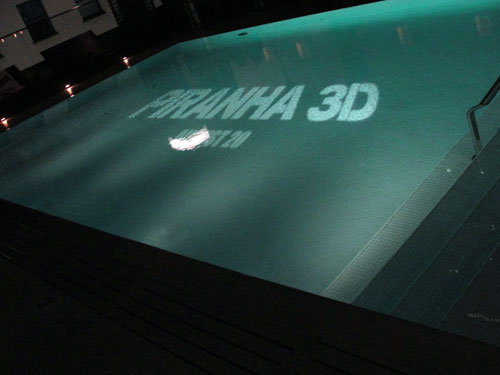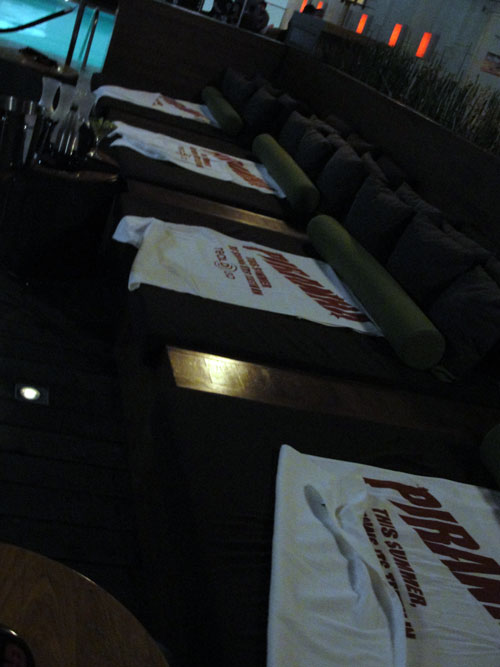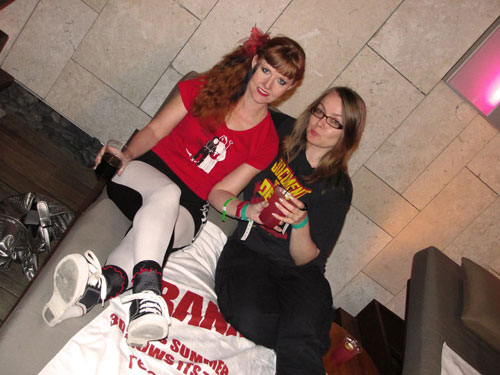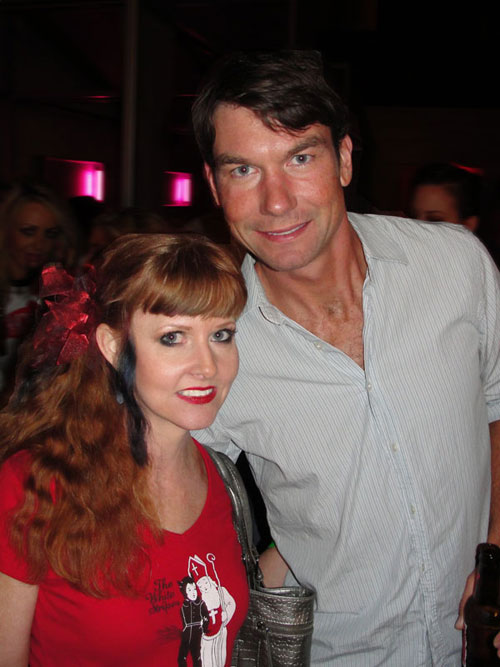 = = =
Check back later for Saturday's exclusive photos of the casts of V, True Blood, Warehouse 13, The Event, and many more!