Exclusive "Scary Movie 3" Premiere

Exclusive "Scary Movie 3" Premiere
Horror.com exclusive video coverage of the "Scary Movie 3" world premiere in Los Angeles, California.
Horror.com contributor Staci Layne Wilson attended the world premiere of "Scary Movie 3" in Los Angeles. The premiere was packed was stars - and press. Staci grabbed a few moments with Charlie Sheen, Anna Farris, Leslie Nielsen, Regina King, Paula Abdul, and more.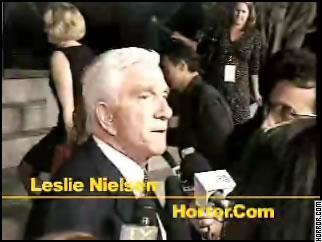 Click The Image Above To View The Premiere Video.
Also check out the Horror.com "Scary Movie 3" Premiere photo gallery for high-res images of the stars.

Don't forget to read Staci's review of the horror spoof.
Latest User Comments:
cool enuge
i liked the 1st 1 better but it was great
03-19-2004 by VooDo
discuss
not seen seen first two but it looks better than number two
03-08-2004 by regan12
discuss
its cool
if u havent seen it go it it NOW!!!!!!!!
03-06-2004 by coolieo
discuss