Exclusive "Texas Chainsaw Massacre" Premiere

Exclusive "Texas Chainsaw Massacre" Premiere
Horror.com exclusive pictures & video from the TCM remake world premiere in Los Angeles, California.
Horror.com contributor Staci Layne Wilson attended the world premiere of "The Texas Chainsaw Massacre" in Los Angeles this week. She reported back with some exclusive videos and pictures from the scene. Check out the eight-minute video clip below for comments and short interviews with most of the cast and some random attendees including Tobe Hooper, Jessica Biel, Marcus Nispel, David Dorfman, and lots of others.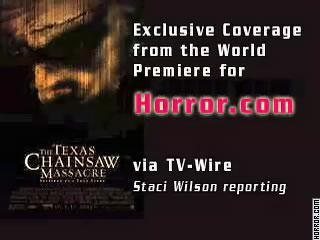 Click The Image Above To View The Premiere Video.
Also check out the Horror.com TCM Premiere photo gallery for high-res images of the stars.
Don't forget to read Staci's review of the remade classic.
Latest User Comments:
I need to know the theme song of the trailer
If you do know the "THEME SONG" for the trailer, please let me know... YOu can get back to me at [email]kellyee@verizon.net[/email] thank you alot.... To all you haters out there, THIS MOVIE ROCKED...IT WAS THE BEST....
03-31-2004 by kellyee
discuss
I need to know who sings the theme song in the preview of the trailer
this is bugging the heck outta me. I see the trailer of TCM 2003 but dont know who sings the song....If you do know who does, please get back to me ....
03-31-2004 by Kellyee
discuss
[QUOTE] dont care what any of the people that dont like this movie says yall aint real fans of horror ive been watching scary movies since i was 2 and all i gots to say is texas chainsaw massacare the best horror movie of all time besides freddy vs jason that was the shiznit peace oh yeh you peple need spelling lessons learn how to tipe[/QUOTE] LOL...
01-11-2004 by Arioch
discuss
you are all posers
i dont care what any of the people that dont like this movie says yall aint real fans of horror ive been watching scary movies since i was 2 and all i gots to say is texas chainsaw massacare the best horror movie of all time besides freddy vs jason that was the shiznit peace oh yeh you peple need spelling lessons learn how to tipe
01-11-2004 by cody
discuss