Yusaku Hanakuma Tokyo Zombie Art Show

Yusaku Hanakuma Tokyo Zombie Art Show
Coverage of the Yusaku Hanakuma Tokyo Zombie art show at Cystem Gallery in Tokyo, Japan.
Between December 16th 2005 and January 22nd 2006, Cystem Gallery in Tokyo, Japan, held an art exhibit focusing on the art that inspired the Japanese horror film "Tokyo Zombie". The show did not focus on art from the film, but rather featured original paintings and manga drawings by the Japanese artist who originally created Tokyo Zombie - Yusaku Hanakuma.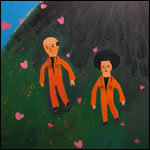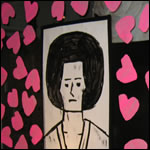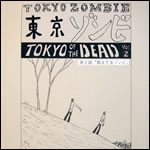 The show featured a number of brightly colored paintings by Hanakuma as well as larger than life sculptures of the main characters from Tokyo Zombie. Most interestingly, several walls of the gallery were completely covered in the original line drawings from the Tokyo Zombie mangas. It was a rare chance to examine these now-famous (or infamous?) hand drawn comics up close and personal.
Long before the live action Tokyo Zombie movie became a reality, Hanakuma was well known in Japan for his crudely drawn, strangely kinky and always funny manga books. The lovable, if strange, characters at the heart of Tokyo Zombie, Afro (Tadanobu Asano in the film) and Hage (Sho Aikawa in the film), appear in many of Hanakuma's graphic stories. Not content with bizarre adult humor, the artist has also penned a children's book called "Let's Eat Moomba Spaceman" and a memoir about his fighting experience called "Sweat of the Ring".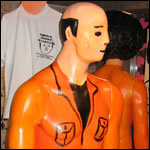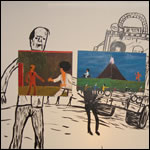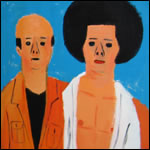 In addition to being an artist, Yusaku Hanakuma is also a member of the real life martial arts fighting team Ichibanbosi Grappling and is well regarded for his skills in jiu jitsu. He worked on the set of the Tokyo Zombie film helping to choreograph the fight scenes. Upstairs at the Cystem Gallery exhibit, a video monitor showed looping footage of Hanakuma grappling mixed in with clips from the film.
Click on over to the Horror.com Tokyo Zombie Art Show Gallery to see all of the images from the show.
Hanakuma's art has been shown at various other galleries around the world and he continues to produce his popular series of mangas as well as various goods branded with his characters. For more information on the artist and to keep up with what he's working on,you can check out the official Hanakuma website.
Cystem Gallery is located at 3-20-10 Sendagaya, Shibuya-ku, Tokyo.