Scream Queens Season 2 Debut - Smashing Pumpkins

Scream Queens Season 2 Debut - Smashing Pumpkins
An overview and short review of e1 s2
It's Sorority Row meets America's Top Model in VH1's episodic reality series which takes 10 aspiring and unknown actresses and puts them through various wringers to prepare them for a career as a "scream queen" specializing in the horror genre.
It's like AMT in that the competitors must complete a series of relevant challenges while competing with one another and sequestered from the outside world and living together under one roof. It's like Sorority Row in that the real-life ladies are (either truly, or edited to seem so) caricatures of tried and true horror movie stereotypes — we've got the sexpot, the brain, the good girl, the privileged snob, the poor girl, the serious one, the one who's got something to prove, and so on.
The opening 10 minutes of the first episode are very impressive from an editing standpoint — it was a brilliant choice to intercut the intros of each girl in between an explanation of the setup and the meet and greet with the panel of pros. Traditionally, each of these things would be done one-by-one… and that can be tedious for the viewer. In this case, the attention span is constantly refreshed, until it's time to begin the challenges and then you want (and are given) a solid, uninterrupted account of what's going on.
John Homa, tough-guy acting coach, is the only returnee from the Season One panel of pros. Actress Jaime King (My Bloody Valentine, Mother's Day) is the new mentor, while director Tim Sullivan (Driftwood, 2001 Maniacs: Field of Screams) is the director of all the scenarios.
In the first quick challenge, an almost impromptu one, each of the girls is given the emotion of fear to play. They have to crawl into a bed and act as if they've just woken from a nightmare, their boyfriend is missing, and BOO! the bogeyman jumps up from behind them. It's a simple scene without a lot of wiggle room, so most of them playing it the same but there were a few standouts (to the good, and the bad).
The next challenge is supervised by Homa and it was to show extreme rage: each of the ladies has to smash pumpkins with a baseball bat while screaming about how much they hate the person they are symbolically bashing. Already, here is where the seams started to stretch in many of the contestants' acting abilities. Not to mention some physical limitations — cute-as-a-button 4'10 Rosanna is just too much of a lightweight to do much damage. Finally, they all have to show variations on a theme while doing a faux teaser trailer for Sullivan (challenge winner Jessica really did stand out above everyone else; it wasn't even close). This was my favorite part of the show... I think Sullivan should really make that movie!
Compared to last year, this season's batch of actresses seem — if possible — even more conceited. (One thing that really stuck me, and perhaps this is in the editing, was that the actresses on Scream Queens seem to have even higher opinions of their looks than the models on AMT! Self-confidence is good, but narcissm is tiresome.)
This is a double-edged machete; it can either be salaciously entertaining, or just plain trying. Time will tell. So far, there's no world-champion cryer like last year's winner Tandera Howard, but there are water-works aplenty even in the first episode.
The girls who've made the biggest impression on me, so far, are Allison Kyler (I interviewed her on a red carpet a few weeks ago, so I recognized her — but on the show she is pretty much the alpha and, "[I'm] the hot girl you'd want to go to a club with.") and Gabby West, who is very pretty and has an appealing vulnerability about her. The ones I found least-appealing right off the bat actually did make it to the elimination round and one of them got "the axe" (won't say who, in case you haven't seen the ep yet).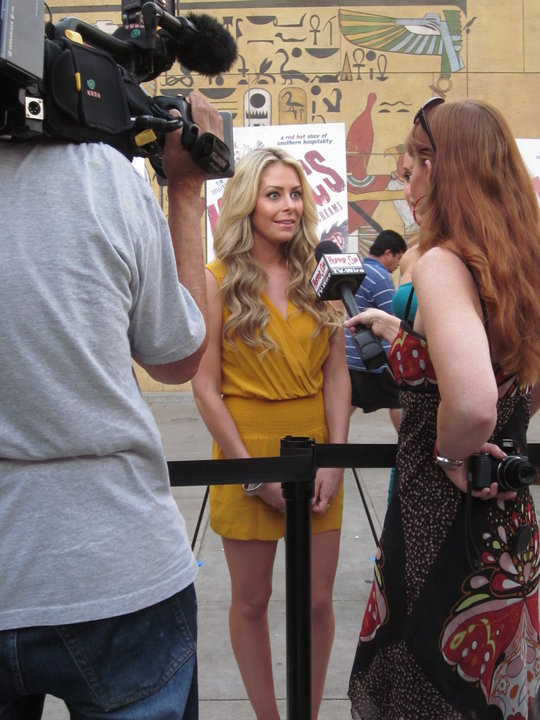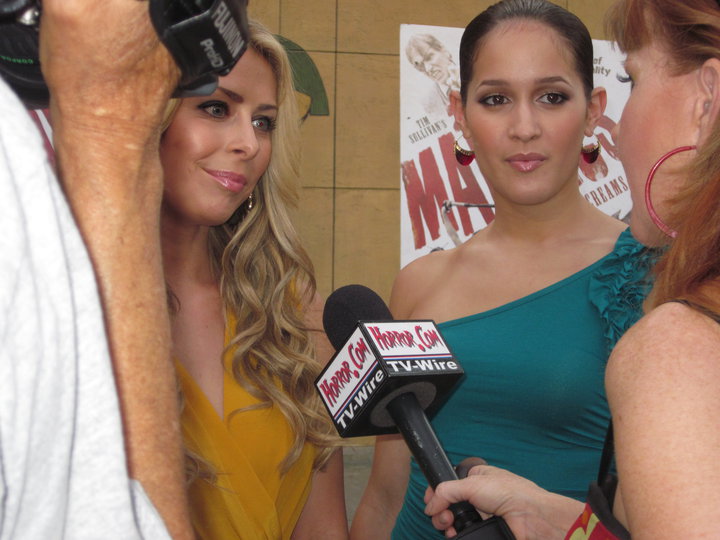 Allison & Jessica promoting SQS2 on the red carpet for
Tim Sullivan's film 2001 Maniacs: Field of Screams
Allison Kyler - C.L.A.S.S. (as "girl at party")
Christine Haeberman - Did You See That? (as "Moon")
Gabby West - Fright Night ("a role" in the remake)
Jessica Ortiz - [nothing listed]
Karlie Lewis - We Are Family (as Zantria)
Rosanna Pansino - Shakey Grounds (as 1/2 of "Dating Dot Com couple")
Sarah [no last name given… CGI creation?]
Sierra Holmes - [nothing listed]
Tai Davis - [nothing listed]
Lana Underwood - [nothing listed]