Pretty Bloody: Women in Horror TV Review

Pretty Bloody: Women in Horror TV Review
It's pretty bloody good, as we Yanks like to say
The title Pretty Bloody: Women in Horror doesn't leave much to the imagination, and neither does this documentary — very well-rounded at 60 minutes long, we meet a variety of females working in the genre entertainment business ranging from an Internet entrepreneur, a magazine editor, and directors and actors — as we learn a lot.
While the doc doesn't toss any startling revelations out to those of us already immersed in horror, it will probably be of great interest to the casual viewer who's channel-surfing (Pretty Bloody makes its broadcast debut on Canadian television next week) or browsing the DVD section at their favorite bricks and mortar. The main purpose of the show is to demonstrate that women who like horror or who make their living off it are not bizarre, basement-dwelling half-wits: they are, in fact, intelligent, empowered, and yes, pretty. (We already knew that!)
Among the interviewees are film critic and biographer Maitland Maitland McDonagh, Rue Morgue magazine's editor-in-chief Jovanka Vucovick, actor and producer Brinke Stevens, actor and Fangoria radio personality Debbie Rochon, Pet Sematary director Mary Lambert, Blood Ties author Tanya Huff, and owner/operator of Pretty-Scary.net and actor/director Heidi Martinuzzi. Each woman has something intelligent and compelling to say about the biz, with its major focus on movies and television shows.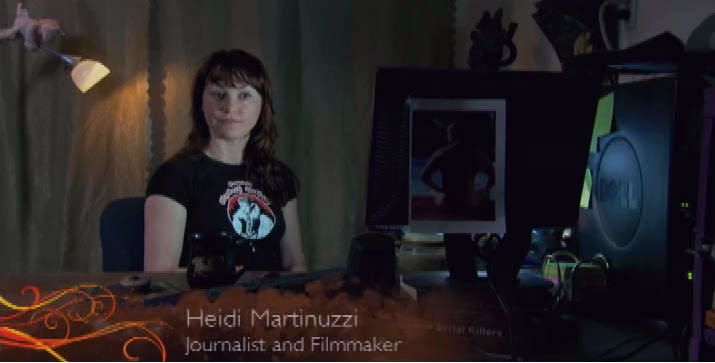 The lone male interviewee, Dave Alexander of Canada's Rue Morgue magazine, has many interesting and insightful things to say about Vampira, TV's first scream queen (…not just a "screamer", which is defined in the course of the doc). There's lots of great footage and several still photos of sexy Maila Nurmi (1922–2008) in and out of character.
But aside from Nurmi, there isn't a lot of information about anyone beyond the actual interviewees themselves… which is limiting, but certainly understandable given the one-hour running time. It's a good showcase for these ladies, particularly the ones who work behind the scenes and aren't often recognized for their efforts and dedication to horror.
Pretty Bloody airs February 25, 2009 on the Canadian Sci-Fi Channel, "Space"