Screaming in High Heels: The Rise & Fall of the Scream Queen Era - Documentary Movie Review

Screaming in High Heels: The Rise & Fall of the Scream Queen Era - Documentary Movie Review
Directed by Jason Paul Collum. Featuring Michelle Bauer, Linnea Quigley, and Brinke Stevens.
Blonde mini-bombshell, 5-foot-nothing Linnea Quigley was an underground icon in the 80s who starred (mainly nude except for high heels, and screaming) in now-classic gore-fests such as Night of the Demons, Return of the Living Dead, Creepozoids and Hollywood Chainsaw Hookers. Michelle Bauer and Brinke Stevens weren't quite as high-profiles Linnea — with fewer theatrical releases to their names — but writer director Jason Paul Collum chose the perfect trio to focus on for this documentary.
Collum does a great job of showing how each of these women rose to their own personal bests as B movie actresses with the advent of home video, how each of them has dealt with the fall of the era in the past decades, and what they are doing now.
The doc starts off describing how the demise of the drive-in theater gave power to home video, and how low-budget filmmakers honed in on that quick buck (we're reminded: back in the day, VHS movies were selling for an average of $89.99 each!). Seems the best way to get the consumer dollars was to hit them where they live: and bombard them with beautiful, buxom, and bloody babes.
The unrated DVD of Screaming in High Heels chronicles the careers of the original girls of terror as they show that cannibalism, demonic possession, flesh eating, and even chainsaw hookering is all in a days work' — Brinke, Linnea, and Michelle headlined upwards of ten films per year, fending off men in rubber monster suits, pubescent teenage boys, and took lots of bubble baths together. If it sounds dumb… it is. But, fortunately, none of these women are, and their dialogues are quite interesting and informative.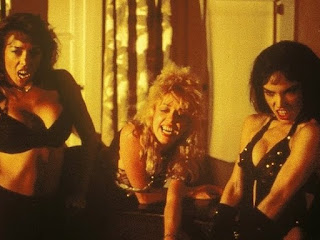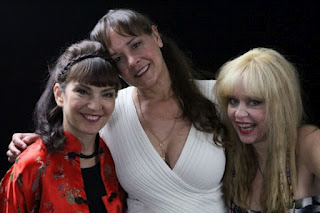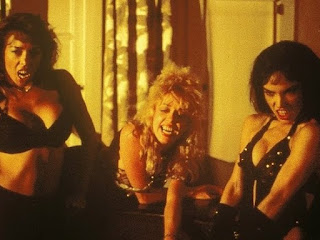 Collum also chose a good handful of directors and writers to offer some behind the scenes stories, business-related info, and intrinsically male perspectives on the proceedings. David DeCoteau (Creepozoids), Richard Gabai (Nightmare Sisters), Fred Olen Ray (The Tomb), and Kenneth J. Hall (Linnea Quigley's Horror Workout), all have noteworthy stories on what it was like to shoot an entire film in less than a week, and what it was like to work with these ladies (and to work them… hard!).
There are thoughts on fandom then and now (from the big screen and little interaction, to the convention circuit and the internet), philosophical moments on ageism in the business, then the doc caps on a brief overview of modern day scream queens such as Tiffany Shepis, Debbie Rochon, and Felissa Rose.
Coming in at 63 minutes, Screaming in High Heels just manages to not overstay its welcome. I found it somewhat repetitive, and at times I wondered who its target audience is… if it's for the longtime fan, we already know all this stuff; if it's to inform those who are new to horror about the olden days, they're probably more interested in mainstream stars like Jamie Lee Curtis; if it is for men wanting to ogle the ladies, the clips in the doc are nothing new; if it's for aspiring actresses and branding entrepreneurs, then there isn't quite enough info.
Still, overall, I found the interviewees' collective experiences and perspectives to be in line with one another, making for a pretty cohesive and lively presentation. As a general overview of the heyday of low-budget female-hero horror, Scream in High Heels is well worth a look.
For more information on this film, you can visit and "Like" the film's official Facebook page at: Screaming in High Heels
= = =
Reviewed by Staci Layne Wilson