Phantom of the Opera Blu-ray DVD Movie Review

Phantom of the Opera Blu-ray DVD Movie Review
Directed by Rupert Julian, starring Lon Chaney and Mary Philbin. Review of 2011 Blu-ray Special 3-film edition, out on November 1.
"I am human, like other men… I will not be cheated of my happiness!" proclaims Erik the Phantom, long velvet cape swirling and eyes blazing. Although he doesn't look altogether human, this bizarre burn-victim isn't a ghost at all. In fact, the corporeal body aspires to hold and possess the love of a beautiful woman he's admired from afar — and the luminous, innocent understudy Christine Daae (Mary Philbin) soon finds herself held in his ghoulish, gothic Paris underground lair, fallen prey to his creepy, charred charms.
While there have been many versions of "the celebrated Gaston LeRoux novel" brought to the big screen (let's just forget the Gerard Butler flick altogether), this is the definitive. So beautifully shot and so romantically wrought, Phantom of the Opera is a devilish delight from beginning to end as the cast within the cast reenacts Gounod's Faust and finds their own souls sold.
This film, along with The Cabinet of Dr. Caligari, Nosferatu, and Island of Lost Souls is among the very best of the horror classics and to see it restored, along with some amazing new symphonic scores, is an absolute treat. Directed with a heavy but assured hand by Rupert Julian, star Lon Chaney, also known as "The Man of 1000 Faces" shows off the most famous one here, having designed the still-horrifying makeup himself (willingly wearing wires to hold his nostrils open and anchored at his ears, plus chemical drops endured to dilate his pupils, and yet more).
Chaney's performance, while certainly histrionic by today's standards (no, wait… I just saw Nicolas Cage being even more unrestrained in Trespass), is believable. While Christine doesn't seem sexy enough to risk lives and limbs for, one must bear in mind this was an era in which "a glimpse of stocking" was still "quite shocking." Besides, it's her sweet singing voice Erik falls for. He falls hard, campaigning to have her brought center stage with a series of threatening letters and an escalating succession of catastrophes until finally, Christine is made prima donna.
While the intimate, twisted romance is at the heart of the story, there are many breathtakingly flamboyant scenes featuring a flurries of extras. Perhaps the most ambitious is the panic in the opera after a gigantic crystal and glass chandelier falls onto the audience, sending a sea of terrified patrons out into the night. In another scene, the moat stocked by seepage from the Seine and surrounding the catacombs is drained after Christine is forced to make a horrible choice by the phantom, and water is trumped by oceans of fire.
And then there are the tiny moments, those of dancing ballerina shadows playing against walls of light, nuanced glances, and handcrafted set pieces, that make The Phantom of the Opera a true cinematic classic. Masking and unmasking, at grand balls and in the bowels of the catacombs, play strong parts as juxtaposed against the macabre and grand horror of it all as more and more people die in the name of Erik's irrational fixation.
Shifting from stark black and white, to warm sepia tones, and pops of red and soft pinks in the hand-colored tinted sequences, The Phantom of the Opera never rests. The new score, performed by Alloy Orchestra (in the one version I have watched, so far) is beautifully done, true to the era but without sounding at all stodgy or dated.
Believe it or not, this is the first time Phantom of the Opera has been put on Blu-ray. Put out by Image and produced by renowned silent film authority and preservationist David Shepard, The Phantom of the Opera disc contains the following:
1)

Brand-new HD digital transfer of the 24fps version of 1929 reissue (Academy Aspect Ratio) from the 35mm negative, with tinted sequences including the Bal Masque sequence in two-strip Technicolor. Featuring a brand new music score by Alloy Orchestra, plus Gaylord Carter's famous theatre organ score, released for the first time in stereo.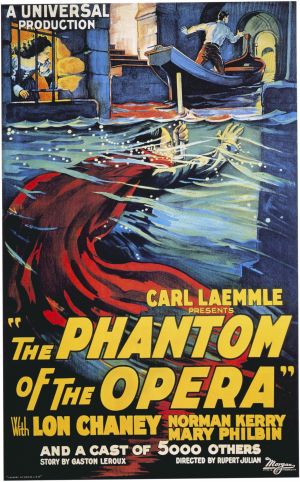 2)

Brand-new HD transfer of 20fps version of 1929 reissue with tinting, Technicolor and hand-coloring. Symphonic score composed by Gabriel Thibaudeau, performed by I Musici de Montreal, conducted by Yuri Turovsky with Claudine Cote, soprano presented in stereo, along with a new full-length audio essay by Dr. Jon Mirsalis.
3)

Standard definition presentation of the original 1925 release from a 16mm tinted source copy. Accompanied by a new piano score by Dr. Frederick Hodges.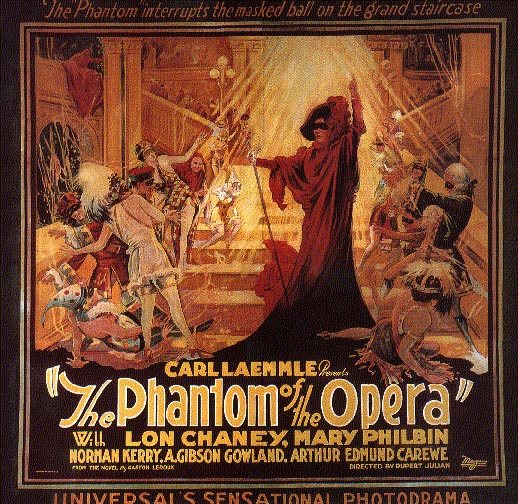 The Phantom of the Opera also contains the following bonus features:
* The Complete Phantom of the Opera Script
* Phantom Souvenir Program Reproduction
Reviewed by Staci Layne Wilson