Amer Movie Review
Amer movie review, 2010, directed by Hélène Cattet, Bruno Forzani. Starring Marie Bos, Delphine Brual and Harry Cleven.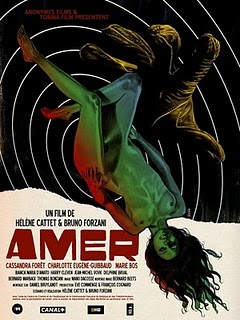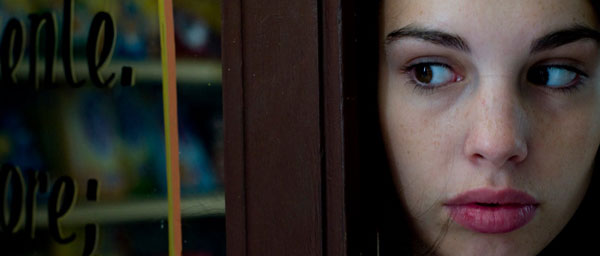 I tried to go into Amer with as few preconceptions as possible, however I couldn't help but know that it was being marketed as a cinematic love letter to the giallo genre. On that level, it is somewhat disappointing — Amer is more like early Mario Bava meets new wave era Jean Luc Godard on the way to coffee with Brian De Palma circa 1981. That's not a bad thing at all, but if you go in expecting a gory mystery (and, like, a plot), you'll be heading out wondering what just happened.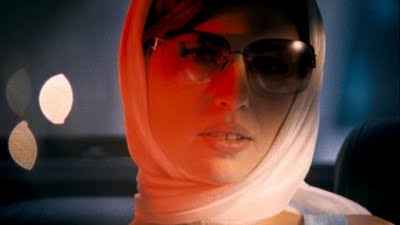 The nearly wordless, very physical fable follows Ana from psychologically scarred child to wild, wandering woman. On that sensual and vividly candy-colored path, she meets a variety of strange, savage characters — both real, and imagined. But who is the specter that wears black lace gloves and prevents her from screaming even as razors tease the barrier of her smooth-skinned thighs?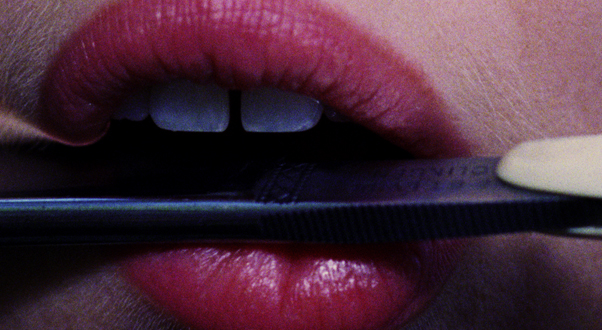 Amer is all about visuals, sound, mood, innuendo and ambiance. Once the somewhat difficult first 10-15 minutes passes, art film fans will find themselves drawn into siren-like Ana's enchanting eyes, lush lips, and flimsy sky-blue frock. But there isn't much more than that — everything feels quite calculated, and there isn't a single sympathetic character. It is perhaps telling that the title, Amer, is French for "bitter".
The acting is somewhat uneven, but this could be due to the fact that the film feels very experimental (and yet oddly staid and true to its heroes at the same time) and the editing is just a little too restless, never quite allowing the film to flow. The color palettes are gorgeous, opulent, and saturated (there are a few distinct ones, which illustrate a trio of erotic escapades), as advertised —yet, I was slightly disappointed by the cinematography. It could have had more depth and the DP could have used more negative space for my taste. The soundtrack, made up of scraps of 70s film scores (from composers Ennio Morricone, Bruno Nicolai, and Stelvio Cipriani), adds greatly to the hypnotic lure of Ana's journey through a prism of psychosexual fixation.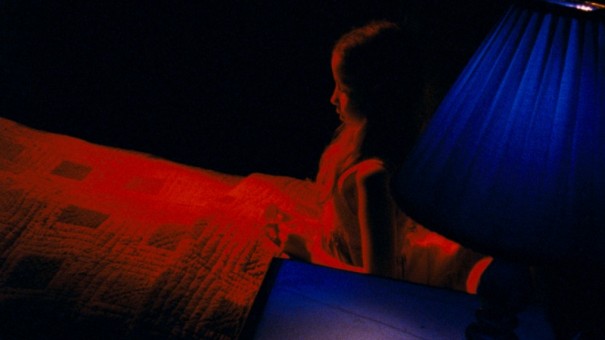 While Amer isn't for everyone, it's bound to be a sweet treat for those who swoon to style. I liked it well enough to want to give it another look on disc.
Latest User Comments:
Agreed: searingly memorable. Just a little problematic in some areas (for me, anyway). Still -- a huge, and very welcome improvement over the torture porns and horror classics remakes! Staci
10-29-2010 by stacilayne
discuss
Amer... not just pretty pictures
Very good review. I enjoyed it a little more I think. The visuals were so oddly striking, I found myself literally mesmerized and couldn't take my eyes off the screen. I was alternately aroused disturbed at any given moment. While it did play out its Goddard tricks pretty early on, you have give it credit for not being boring despite the fact that there were probably 8 pages of dialogue in the entire film. And there was ALWAYS something to look at and some of those images (for better or worse) have been tattooed into my memory. I will probably blush the next time I see a blue dress on a pretty girl. Was this a good movie? Not sure... Jury's still out. Did it stay with me for a week afterward. Um...yes.
10-29-2010 by mch2k
discuss