Blood & Roses Movie Review

Blood & Roses Movie Review
Erotic, Exotic, Ecstatic… & Eyeliner
I loved the eye makeup on Elsa Martinelli and Annette Stroyberg in Roger Vadim's Blood & Roses. Oh, I know it's shallow of me to lead off with that but it's the delightful details which make the film so very sumptuous. Every little nuance — from the ebony cat-eyes on the leading ladies, and the crisply appointed steeds in the finest tack, to the immaculately groomed plush tail on the wild red fox — there is not a hair out of place, making Blood & Roses one of the most gorgeous and visually arresting vampire movies I have ever seen.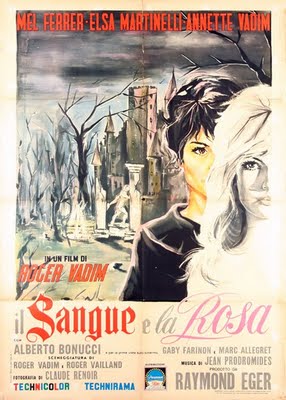 Although I am by no means a completist and have probably seen fewer than 10 of Vadim's 30 feature films, I am a longtime fan. My first experience with Vadim's work was seeing Barbarella on television as a kid. After that, I caught a big screen revival showing his most commercially-known film And God Created Woman (which he did with his then-wife, Brigitte Bardot, in 1956. In fact, he worked with his wives often — Barbarella star Jane Fonda was his bride in '68, and Annette Stroyberg is credited as "Annette Vadim" in 1960's Blood & Roses). My favorite film of his is wedged into an Edgar Allen Poe anthology entitled Spirits of the Dead (1968), which also features Federico Fellini and Louis Malle. Having seen Blood & Roses for the first time a few days ago at The Egyptian Theater in Hollywood, I now wish Vadim had created a lot more horror. That seems to have been his forte, but he didn't do much of it.
Blood & Roses is based upon the infamous Joseph Sheridan Le Fanu 'vampires-lesbos' tale Carmilla (1871-72). The erotically-charged parable had previously been adapted for the screen in 1932 by Carl Dreyer (as Vampyr), but Vadim was the first auteur to strive for accuracy — along with a generous flourish of his own French New Wave sensibilities.
The story's simple: Cool blonde Carmilla Karnstein (Annette Vadim) is a high-spirited, highly-strung young heiress who's obsessed with her family's longtime penchant for bloodsucking. She also peeved that the man she loves, cousin (yeah, a blood-relative) Leopoldo (Mel Ferrer) is going to marry another woman. But she puts on a brave face in the presence of beautiful brunette Georgia (Elsa Martinelli), even as she's being haunted and hunted by undead Mircalla (also played by Annette Vadim).
Much hand-wringing and a little neck-biting follows, but it's not what the characters do so much as it how Vadim has them doing it. He presents it all so lavishly — and without being at all unintentionally humorous, or silly. Even as dated as the movie basically is, there's an underlying timelessness to it that's reminiscent of the ageless and forever elegiac, ethereal vampires themselves.
Aside from the flawless facades of the dazzlingly-dressed, coiffed and made-up lead actresses, Ferrer is also in fine fettle as Leopold and is more than just the wishbone poised between the two females. He's simply stunning in a scene set a costume party, in which he's wearing a mask of batwings.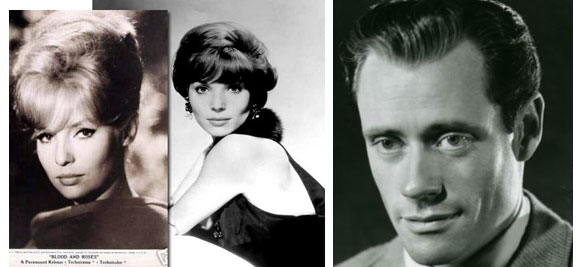 There are countless moments of jaw-dropping splendor on location (Hadrian's Villa) in this aggressively European film, each boosted by Claude Renoir's accomplished cinematography, and Jean Prodromidès' stirring score. The 50-year old Blood & Roses remains an overlooked masterpiece at the moment, but hopefully it will find everlasting life on DVD soon (preferably restored to include the footage cut from the VHS version, and its Technicolor touched-up).
= = =
Reviewed by Staci Layne Wilson