Splatter - Episode 1 Review

Splatter - Episode 1 Review
The new Netflix and Web-Series from Roger Corman and Joe Dante
Please note: This review is based upon an episode viewed with as-yet incomplete FX and color-timing
Producer Roger Corman (who's been the "King of the Bs" since The Little Shop of Horrors came out to bite audiences in 1960), has teamed up with director Joe Dante (everything from The Howling to Masters of Horror's Homecoming episode, and whose career was actually launched by Corman) to present Splatter, the first-ever webseries by Netflix. The three-part genre series will air online on October 29, just in time get everyone jazzed up for Halloween.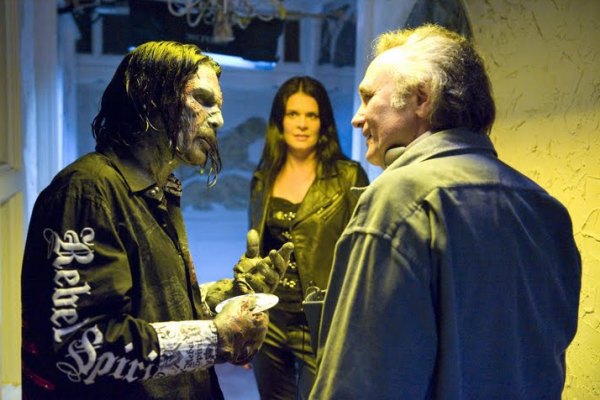 The story begins at the funeral of suicide-victim (being a victim of yourself - the ultimate scary, right?) and legendary rock star, Johnny Splatter (Corey Feldman, who worked with Joe Dante before in Gremlins). Johnny blew his cranium to bits with a handgun — we see the "splatter" of his blood and brains quite gorily, by the way — and now his friends, foes, flunkies and frenemies have gathered at his memorial service to hear his final words via a videotaped statement from Johnny just before he pulled the trigger.
Who will be the benefactor of Johnny's great fortune? Most likely it will be his conniving manager (played by cult icon Tony Todd), but before we can find out a zombified Johnny returns for a deadly encore filled with grue and viscous tissue. But it's all in fun — with Dante's skewed sense of humor and Corman's flair for the grand guignol theatrical, Splatter isn't especially terrifying. Highly entertaining, however, it is. Feldman is especially good, not necessarily hamming it up, but really getting into the gristle of the role as the scorned rocker out for otherworldly revenge. I loved what I saw of it. It's very reminiscent of the best episodes of Tales From the Crypt, complete with the torrid comic book art and sleazy bright color palette.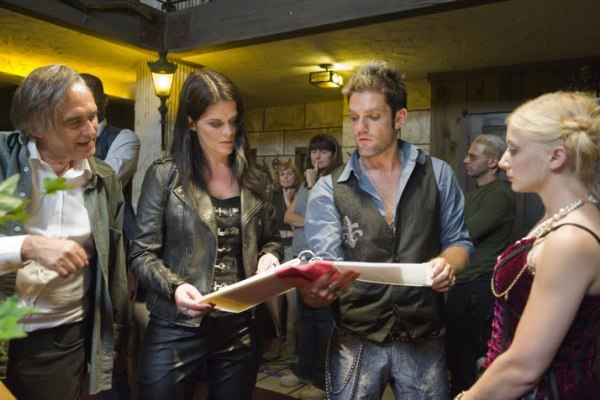 What's more, there is an audience participation option. Anyone in America can watch Splatter for free at http://www.netflix.com/splatter and then vote on the fate of its characters to determine the who gets the final curtain. Voting will be opened up at the conclusion of the first two webisodes (October 29, and November 6.)
Reviewed by Staci Layne Wilson
Stay tuned for our exclusive on-camera interview with Roger Corman and Corey Feldman