EXCLUSIVE NEWS! Scream Queens Winner Gabby West Cast in Tim Sullivan's Chillerama

EXCLUSIVE NEWS! Scream Queens Winner Gabby West Cast in Tim Sullivan's Chillerama
Gabby West, VH1's Scream Queens, Tim Sullivan, Chillerama, I Was A Teenage Werebear
Gabby West, VH1's Scream Queen 2010, has been cast in director Tim Sullivan's latest project. He was kind enough to drop us a line to give you the inside scoop!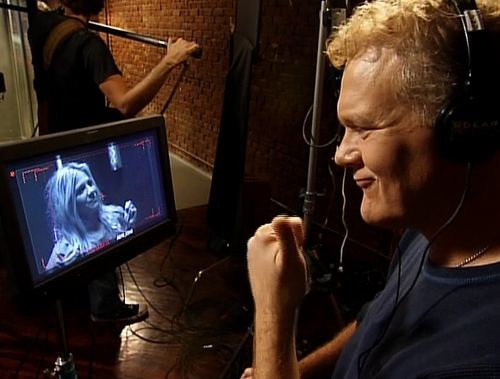 Tim announces...

"I am thrilled to say that my work with Gabby West, which began on vh1's SCREAM QUEENS 2, will continue on in CHILLERAMA, the anthology project I am doing with Adam Green, Joe Lynch and Adam Rifkin. My segment, I WAS A TEENAGE WEREBEAR, spoofs 1960s beach movies mashed up with REBEL WITHOUT A CAUSE, GREASE and TWILIGHT! It's about an angst ridden, closeted new kid in school who, when aroused, transforms into a leather clad "bear"! (Just imagine James Dean morphing into the motorcycle dude from VILLAGE PEOPLE and you've got the picture!)
"Gabby plays Peggy Lou, the main character's clueless girlfriend who just can't seem to grasp the real reasons behind her boyfriend's constant lack of interest. This is really exciting to me, because as much as this is a horror film with tons of red, gushy wetness, this is also a comedy with five musical numbers. Getting to see Gabby dance and sing and do comedic work along with a lot of screaming is quite exciting. I can't wait for fans of her work to see her range.
"Casting Gabby in CHILLERAMA really validates the power of SCREAM QUEENS, and is a testament to what I am sure will be a very long career for her beginning with the upcoming release of SAW 3D. Me, Green, Lynch and Rifkin are very happy to be producers on the first official film that Gabby has been cast in post SCREAM QUEENS."
And Gabby adds...

"I just got cast in Chillerama. So stoked. Our segment is 60s era slapstick campy horror. I'm so excited to be in a poodle skirt! I will be playing Peggy Lou... The lead female character and one of the *only* female roles. Very excited and so happy to be working with Tim! He's an amazing director and really brings out the best in his actors."
I daresay...

I can't wait to see it! Gabby was the contenstant I was rooting for from the very beginning of VH1's Scream Queens, and I really became invested (hence, my disappointment with her loss of cool in episode 6... then my audible cheering when she rallied and totally kicked ass in episode 7). She's the kind of young actress who possesses the all-too-rare quality of being not only pretty, but *interesting*. She has an inherent quality of mystery, making you want to see more. It certainly sounds as if we'll be seeing yet another side to Gabby as the singing and dancing 'Peggy Lou'!
Staci Layne Wilson reporting
Follow Horror.com on Twitter @horrordotcom