Melissa Bruning - Let Her In

Melissa Bruning - Let Her In
Exclusive interview with the Costume Designer of Let Me In
by Staci Layne Wilson
Horror is my mainstay but fashion is my passion, so when I found out that cool clothier Melissa Bruning — who did a stellar job on Love Ranch, now in theaters — dressed the vamps in the upcoming remake of Let The Right One In, I just had to snag an interview…
Staci Layne Wilson / Horror.com: Is the Let Me In film also based in the early 80s, like the Scandinavian version and the book?
Melissa Bruning: We decided to set the film in 1983, knowing that it bridged a decade. Most clothing styles don't change until at least three years in, so it allows me to give the kids an early 80s look and the adults could still be clinging to their 70s garb. For me, growing up in Omaha, Nebraska and attending junior high at this time, I had a clear idea of the design I wanted to present in the film. I even used my junior high yearbook as a guide. New Mexico and Nebraska were not that different as far as fashion was concerned. It took a long time for what was happening on the coasts to penetrate and eventually show up as a watered-down version at Sears. It is also extremely, ridiculously cold in New Mexico. No one seems to realize this unless you've lived it. Most nights we were shooting it was consistently 20 degrees outside and at an elevation that made breathing difficult. In Red River, my wardrobe supervisor came down with altitude sickness and wanted to die. So, lots of sweaters (usually done with a bit of Nordic influence) and heavy coats were necessary to keep the actors teeth from chattering.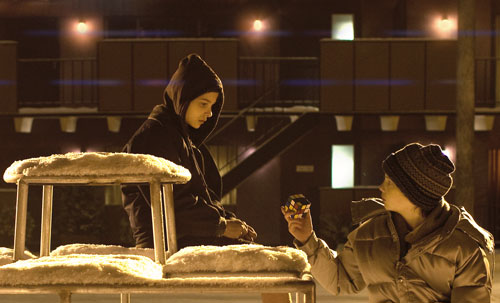 For Abby (played by Chloe Moretz), we did change the design from the little pink sweater she wore in the original. Matt and I were very inspired by a photograph by Mary Ellen Mark of a homeless girl and boy in the early 80s.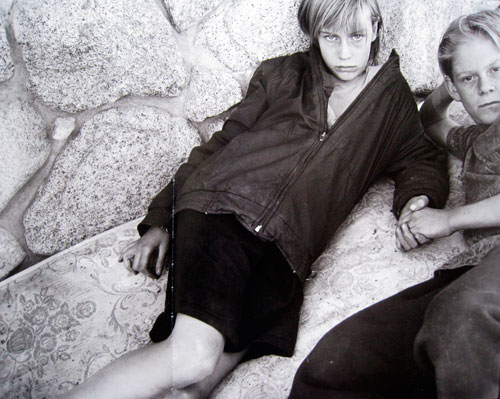 The thin, battered jacket would never be enough for a child in that kind of climate, but a first glance, adults wouldn't pay too much attention. The dark color hides sins (lots of blood) and at times she wears a hooded sweatshirt. It relates back to her past… a scene I can't talk about. It also gives her a sense of androgyny. We made a choice to do something different and I feel it works better for the story we are telling. There is one moment in the film of her little, cloaked, white face that reminds me of Bergman's The Seventh Seal, my intention.
SLW: How much inspiration for costuming comes from things which have gone before (in this case, a bestselling book and a much-loved cult film… there *will* be fan expectation), and how much from the script or/and what the director wants?
Melissa Bruning: First, I am a huge fan of the original film, enough of a fan that I read the book — which is dark, dark, dark, even for me. So, it was important for me to be as true as possible to the intentions of the story. However, I did feel the costumes were a blank slate and I could do much more to heighten the fairy tale aspect. Also, if it is America, there is more "branding" that American kids have in their clothing. Who didn't have a band t-shirt in the 80s or covet Vans? Owen (played by Kodi Smit-McPhee) stands alone because his mother dresses him like a little man, a reflection of the missing father who probably works are a scientific lab in Los Alamos. His clothes alone make him a target to the other kids and he uses his silver coat as armor against the world. Also, the "mother's' dress that Abby wears is changed. I decided it should be a Gunny Sack dress. It represents the happier carefree times of the mother's past and also has a Renaissance, Juliet feel that ties back to Owen reading Romeo and Juliet for English class. It makes Abby look even more innocent even though we know the monster underneath.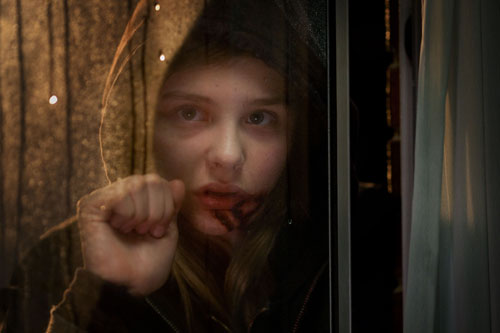 SLW: What are some of the films that inspired you to become a costume designer, and how did you get started?
Melissa Bruning: I blame my love of films on my stepfather for bringing home a video recorder in the 70s. Instead of DVDs, you inserted album sized disks into the cabinet and voila! — movies. When they stopped being so popular people used to sell the "disks" at garage sales and my stepfather used to buy anything he found. Luckily, it was the 70s and no one seemed to care that I was the only one really interested in watching all the movies he bought. So at ten years old, I took a dark journey into films. I watched Taxi Driver, Looking for Mr. Goodbar, The Hunger, Tommy, A Clockwork Orange and all sorts of things today's parents would never allow.
As far as wanting to become a costume designer, apparently, I told everyone when I was 8 that I wanted to be a costume designer. I taught myself to sew, I could draw and I loved theater so no one ever discouraged me. In high school, I was allowed to design shows and went to college specifically to be a costume designer. From Nebraska, I was accepted to NYU to get my MFA in Costume Design — luckily with a full scholarship.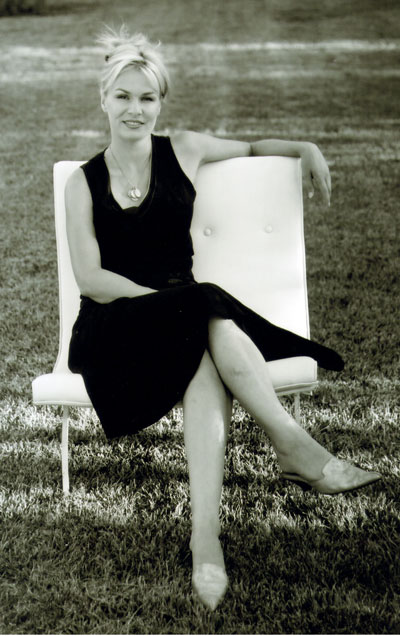 SLW: Let Me In is a Hammer film, and of course they are very well known for their sexy "Hammer glamour" films of the 50s, 60s, and early 1970s. What are some of your personal-favorite 'haute-horror' films?
Melissa Bruning: I actually love haute horror! As a designer, it gives you a chance to be a little bit more extreme with color choices and design. Some of my favorites are The Shining (Shelly's jumper - so odd, Danny's hand knit sweater - fantastic, the twin girls - creepy), Suspiria (everything about the design is fantastic!), Rosemary's Baby (baby-doll maternity and caftans), Stephen King's Carrie (knee socks, tight pants on Travolta and blood on a white prom dress!) and there are so many others.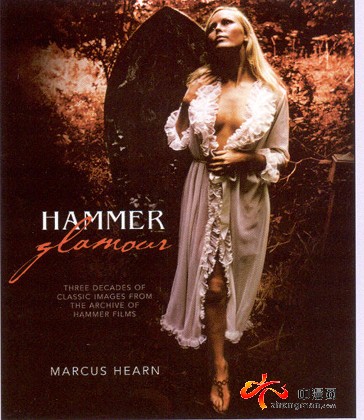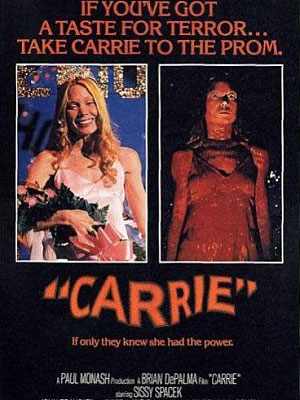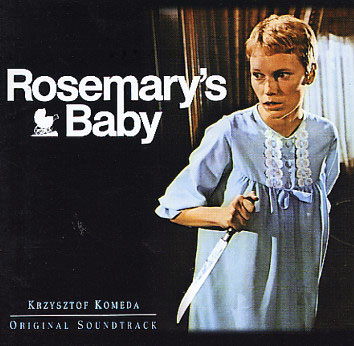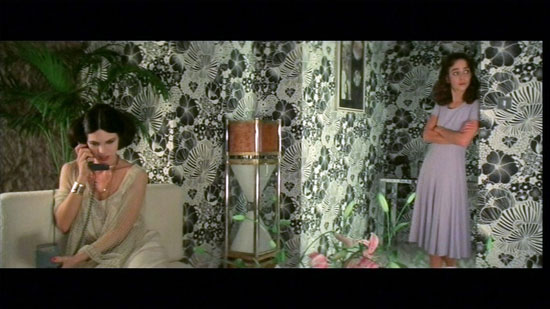 SLW: What was one of the biggest challenges for you in dressing not only children, but vampire-children in a horror movie that's not "glamorous" (like, say, a costume period piece such as Bram Stoker's Dracula or Interview With the Vampire)?
Melissa Bruning: I suppose the challenge for me is always the same. Who is this person? Why did he/she/it decide to wear that? Where was it found? How long has it been worn? What can I do to help the actor and the audience get into the head of this character? Even if the piece is period, mankind and monsterkind are the same through the ages. People have the same emotions and motivations whether it is 1640 or 2010. Also, if it is a monster, how do they blend with the non-dead? Do they need to be camouflaged or do they care?
The audience has to believe. If not, the actor is out there with their proverbial pants down. That's my challenge.
SLW: The clothing colors are very drab and monotone in the first film; is that carried through for the American remake? What does that convey subconsciously to the viewer?
Melissa Bruning: Yes. We wanted to continue to evoke the imagery of a dark, cautionary tale, in the same vein as the original. I would say the clothing in the school scenes suggests the color palate of the 80s and does have more life to it, but overall the tone is muted. Tired. Dark.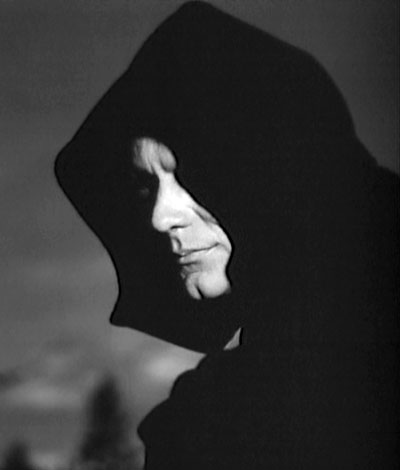 Richard Jenkins (The Father) used to say how much he loved his clothes because when he put them on he felt depressed and tired; they weighted him down. For me, that is an amazing compliment. We spent hours breaking down his costumes to evoke that feeling. It was nice to know it gave such a talented actor more to work with when he was shooting.
SLW: In doing your costuming, especially for a genre film, how aware are you of the public's general UN-awareness of what they're seeing and just how much is subliminal, or even Freudian? Do you ever slip in a little somethin'-somethin' to see if anyone notices? (For instance, I could have sworn I saw a fishnet OVER a high heel in Love Ranch, but the glimpse was so quick, I can't be sure!)
Melissa Bruning: I [find] ways to slip some stuff in — I can't help it. Most of my work is usually un-noticed, but I think there is something cool about that. People sometimes have odd ways of wearing their clothing and I like to encourage that. Sometimes I come up with these fabulous "inside thoughts" that I know will only be processed subliminally, but it's fun for me.
SLW: I understand that in the film, Owen's absentee-mom is shown only in blurs and indistinct imagery — sounds like a real challenge for the costumer. So what did you think when you first heard that, and how did you find a way to help convey her character even though we will never really see her sense of style?
Melissa Bruning: Actually, I proceeded as if we would see her face and let the costumes match her character- a woman trying to cope with a divorce and wine bottle. There is a bit of an homage to Carrie's mother and one of her robes/caftan even has a slightly "nun" look to it.
SLW: What's the one horror movie costuming cliché that should be laid to rest? The vampire's cape, the zombie's rotten clothing, or…?
Melissa Bruning: Wolves in a tuxedo… please! At my favorite local movie theater in Los Feliz, the manager always dresses up in costume for whatever movie is opening. Brilliant, yes. However, his wolfman outfit looked just as good as Benicio's. Good for him, bad for the movie.
SLW: The vampires burst into flames from time to time in this movie… so, what type of clothing would you recommend for the discerning vampire — flared trousers from Hot Topic, or…?
Melissa Bruning: My usual rule with vamps is to stick with natural fibers. It just makes it easier to heal when the clothing doesn't melt to you. Melted capes = embarrassment.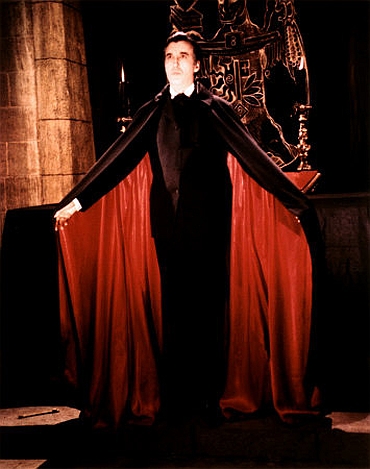 End