Resident Evil x Four + 3D = Milla Jovovich in Skintight Catsuit

Resident Evil x Four + 3D = Milla Jovovich in Skintight Catsuit
I have a soft spot in my head… er, I mean, my heart for the Resident Evil film franchise. The first one, released back in 2002, marked the occasion of one of the first on-camera TV junkets I did and I remember looking quite forward to interviewing headliner Milla Jovovich and badass costar Michelle Rodriquez. As it turned out, Milla bowed out of the junket early for a photo shoot and the studio cut everyone's 1:1 time with Michelle in half. It seemed as though the film was taken kind of lightly. A few days later, the red carpet premiere was a tiny affair relegated to the sub-Chinese Theater.
Flash forward a few years, and the franchise is a hit: I'm flown to Mexico City to observe filming for Resident Evil: Extinction, and the world premiere is a gala extravaganza held at The Planet Hollywood Las Vegas casino. So, of course it's only natural there will be a fourth flick… and in grabbing the zeitgeist by the balls, it'll be in 3D to (Milla's thigh-high) boot.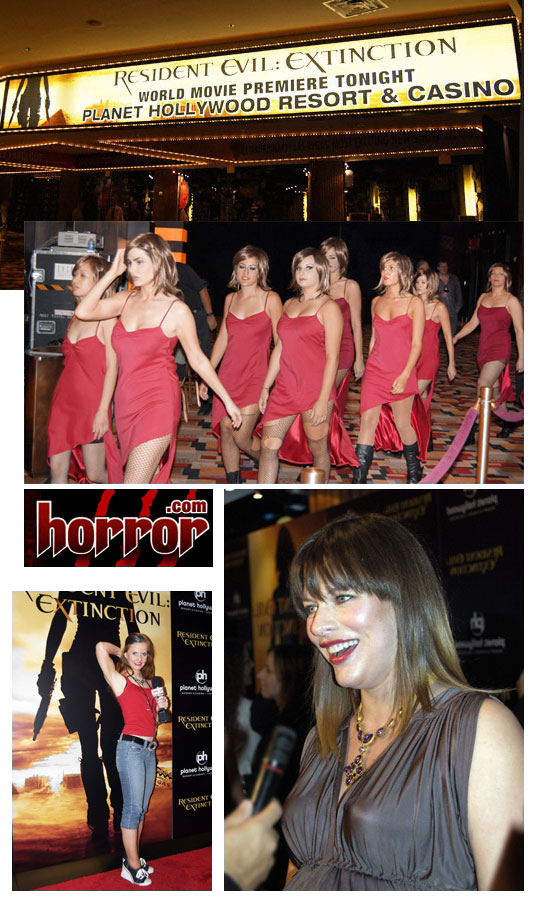 Horror.com's Resident Reviews
This time, the filming we observe is in Toronto, Canada. (The movie's action itself spans the globe from Alaska to L.A. to Tokyo.) A select group on genre journos, including yours truly, are on set in a massive soundstage during what was said to be one of the mildest winters in a long time. Not that you could judge that by the long, bulky parkas donned by many of the cast and crew.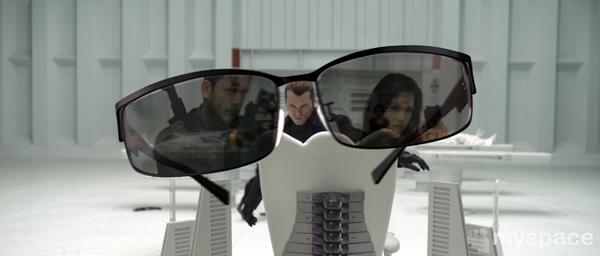 Today Milla is doing some wicked wire work for us to enjoy, costar Kim Coates is getting violently kicked in the chest, and the famous zombie-dogs even supply plastic poop for us to observe and write about. Don't know if the doggie-dirt will make the final cut, but one thing is for sure — the pristine white set poses an interesting set of challenges for cast and crew.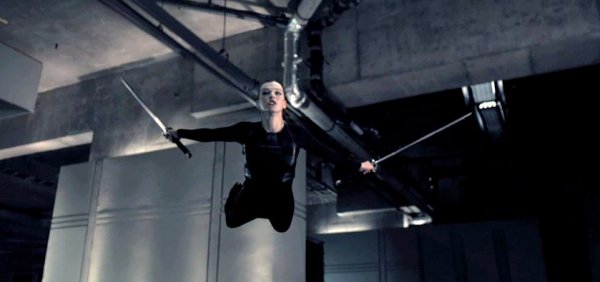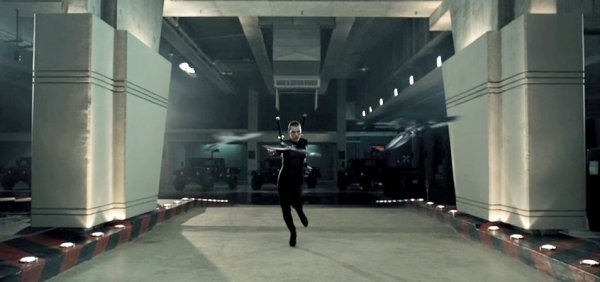 It's supposed to be a nefarious laboratory, and as I said: it's pristine. Everyone walks on it with blue booties, even the F/X guys painting "glisten" onto the animatronic dogs' exposed ribs. That particular set (which you can see in the official movie trailer) poses the unique complication of shooting white-on-white in 3D. Producer Jeremy Bolt talked about during our Q&A, and we even got a glimpse for yourselves; I do believe that was the first set visit I ever attended in which I was obliged to watch the action on the monitors wearing 3D glasses.
It's also one of the few set visits in which the headliner comes over to shoot the breeze (and tweet on Twitter) with the reporters — but Milla has always been super-friendly, fun and accessible. And you know what? She has never seen a 3D film in her life! Don't believe me? Check out our the easy-breezy Q&A below.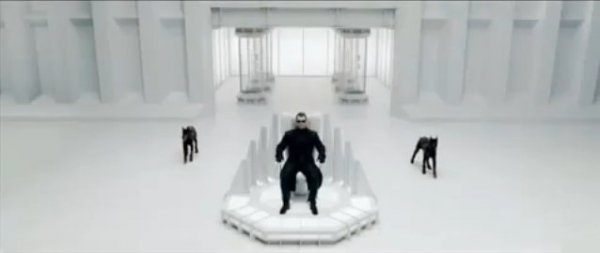 And don't think I've forgotten about the horror and the zombies. Not on your life! We learned about tentacle-toothed aquatic zombies, burrowing zombies and Los Angeles zombies (perhaps that last one is a bit of an oxymoron, but there you go). We saw lots of fake corpses strewn around the sets (human, canine, and clone) and found out exactly why there's so much death under the roof of the Umbrella Corp's labs.
Resident Evil 4 Interviews
[photos courtesy: Enzo Giobbe, Sony Screen Gems, and MySpace]