Ten Best Genre & Horror in 2009

Ten Best Genre & Horror in 2009
Tops of 2009.
With just a couple of exceptions, lots of the movies here on this list wouldn't be considered "horror" by the mainstream moviegoer… and that is precisely what I love about the genre: its stealth factor.
If it's scary, if it gets under your skin, if it makes you contemplate a deal with the Devil, it's eligible — and worthy of recognition.
Not that Quentin Tarantino's critically acclaimed box-office champ Inglourious Basterds needs our recognition, but there are so many nods, winks, tributes and love letters to genre pics within this alternate-reality Nazi fright flick, it'd be criminal not to acknowledge it. As for Terry Gilliam's The Imaginarium of Doctor Parnassus, it's definitely a dark fantasy and not a horror — however, wherever the Devil resides, horror moves in next door. And its limited release status does beg a little extra TLC from our community: please go see it on the big screen, if you can.
You may notice that good portion of my picks this year have a distinct 1970s / early 80s vibe (House of the Devil and The Box do, quite intentionally; while a few of the others — Orphan, Grace, and The Imaginarium of Dr. Parnassus with its Monty Python style visuals — just hint at bygone eras). Young children in peril also seems to be a pervasive theme this year in horror.
I did miss a few flicks over the past 12 months, but not many. Here are my 10 personal favorites in descending order.
Seen: Twice on the big screen, once on DVD
Jenson Ackles stars as Tom Hanniger, the son of a mine-owner who returns to the small town where he grew up after a 10-year absence. His father has died, leaving him the family fortune, business and property. But Tom isn't very happy to back, and the townspeople are hardly welcoming him back with open hearts, either — you see, it was his youthful negligence which led to a cave-in and hence Hanniger Mines employee Harry Warden (Rich Walters) breaking down while trapped in the rubble and murdering his fellow workers for their air supplies. And now that Tom's back in town the killings are, too!
The remake captures the spirit of the 1981 original without lampooning or eschewing it, taking the idea of a coal mine killer and setting it in present day and stocking it with an alarmingly good-looking cast who can also act. What a combo. And while the 3D really must be seen on the big screen with the proper glasses to get the whole effect, the story and actors hold up admirably in 2D as well.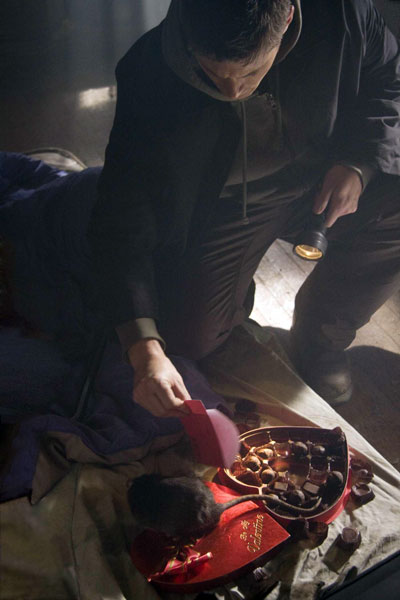 "I'm afraid I can't recommend the Whitman's Chocolate Ghetto Sampler."
Seen: Once on the big screen
Columbus (Jesse Eisenberg), one of the few fresh humans left in a post-apocalyptic world overrun with bloodthirsty zombies, has devised a method in which to preserve himself (and his sanity… kind of). That hide-saving scheme is comprised of following 47 imperatively important rules for survival, most of which center around driving (Always Check The Backseat, Always Wear Your Seatbelt) — and that's apropos, as Zombieland is more road-trip yuk-fest than it is a horror yuck-fest. Woody Harrelson, Emma Stone and Abigail Breslin are along for the whacky ride.
While zombie zealots were indeed drooling over the wide array of wicked undead on display throughout the movie, I was slightly out of lock-step with everyone else. I liked the movie, but I didn't love it (my only sorta-kinda problem with Zombieland is its lack of focus; like spilt guts, it's all over the place as almost a series of comedy sketches loosely tied together rather than a classic three-act film). But more than that, I appreciate the movie and I respect that it did not only what it set out to do, it made some serious bank at the box office and a sequel is now green-lit: that's all good for the horror genre.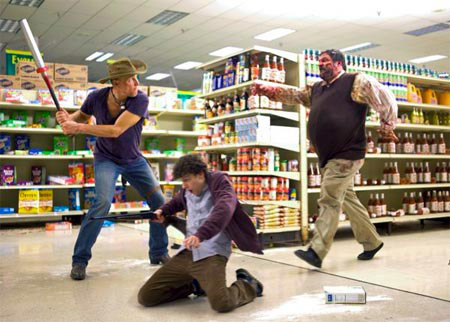 "Excuse me, sir. You'll have to pay for that baseball bat before you can eat it."
8. Orphan - No review available
Seen: Once on the big screen
The story opens when well-to-do American couple Kate and John (Vera Farmiga, Peter Sarsgaard) take in and embrace an 11-year-old foreign girl, Esther (Isabelle Fuhrman). They bring her home only to find that she's not so grateful to have been adopted.
If you enjoy intense, strange "kid movies" (for adults) of the 70s such as Pretty Baby, The Little Girl Who Lived Down the Lane, Alice Sweet Alice, or Don't Look Now... Orphan is kind of in that vibe. Highly recommended, but not everyone will go with the bizarro flow it takes on. While suffering from a little too much "there's something wrong with Esther!" exposition and scared people keeping quiet about her evilness just a little too long, Orphan is overall underrated; a lot of people just didn't "get it".
Setting it apart from most horror films (especially the ones produced by Joel Silver) is its mood and atmosphere, not to mention the extreme attention to detail and some really cool, creepy subliminal messaging (mainly broadcast through costume, set, and production design).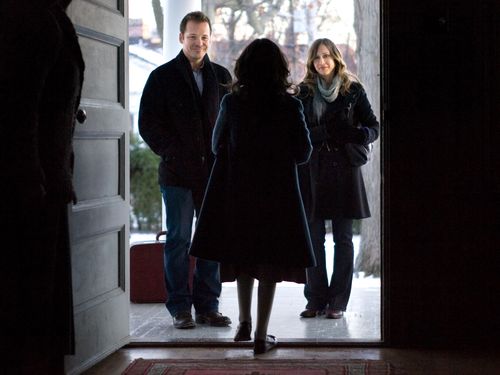 "You say your girl scout cookies are made with actual girl scouts?"
Seen: Once on the big screen
Widowed after the car crash that killed her husband and caused baby Grace's in-utero injuries, Madeline (Jordan Ladd) becomes a nervous, homebound wreck. All she cares about is making sure that no harm comes to her inexplicably bloodthirsty baby. Chief among Madeline's concerns is keeping the suspiciously rotting tot from prying eyes: That means no visits from the midwife (Samantha Ferris), definitely no doctor (Malcolm Stewart), and her frantic mother-in-law (Gabrielle Rose) is totally out of the equation. But needless to say, one-by-one each of these concerned persons comes a'knocking, and they definitely do not like what they see once they get inside Madeline's crib.
Aside from bloody breasts, curdled mother's milk, clotted goo and baby spit-up from hell, Grace offers a lot of good, old-fashioned, frill-free tension and suspense.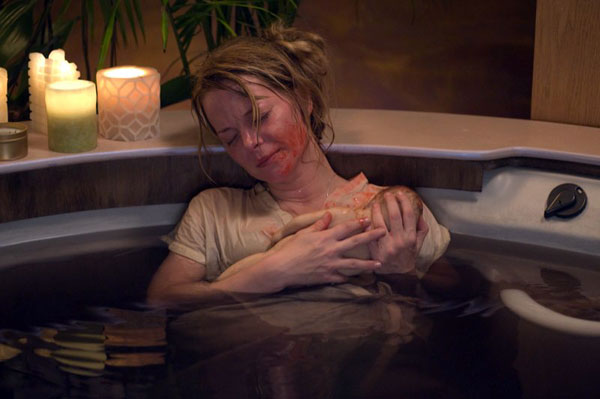 6. Inglourious Basterds - No review available
Seen: Twice on the big screen
Writer/Director Tarantino toasts the town at 2,000 degrees F in this incendiary Nazi genre pic (genre in that it's an alternate reality — it's hardly Dead Snow) starring Brad Pitt and Mélanie Laurent as two people who want nothing more than Hitler's blood on their hands. It's gorier and gutsier than some bona fide horror movies, but what really land it here on this list is its craftily placed insider nods (not the least of which is casting Hostel director Eli Roth in a rather, um, meaty role).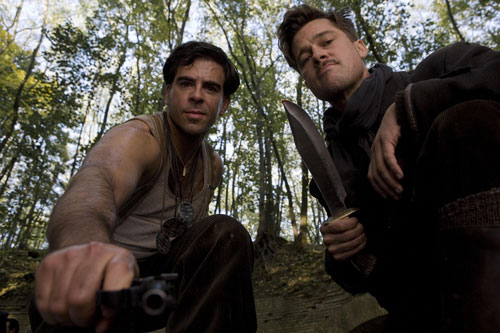 "Yes, that is a gun in my hand, and a knife in Brad's. And yes, we *are* happy to see you."
Seen: Once on the big screen
When sexpot cheerleader Jennifer (Megan Fox) is mistaken for a virgin ripe for sacrifice by traveling Satan worshippers, all hell breaks loose in her hometown of Devil's Kettle.
Even though I do admit Jennifer's Body is lacking in some of the essentials (namely, mystery and suspense), and it probably won't stand the test of time (unless it somehow slips into cult status), I still think it deserves a spot in the list of movies I found relevant in 2009. I chose to like it mainly because 1) I didn't think I would, and 2) Nobody else did. Jennifer's Body is a movie that came along with a lot of junk in the truck. My expectation levels were based upon Diablo Cody's leaked script and what I saw on set while they were filming; other people's expectations came from the fact Cody just recently accepted a screenwriting Oscar for her first film Juno.
Jennifer is no Juno, but personally I enjoyed the cold and snarky comedic tone of the film; I really liked the usually fallow Fox in the role; and I appreciated all the "hidden" horror easter eggs scattered throughout the film. It will be on Blu-ray and DVD on December 29, so if you were one of the horror fans who stayed away in droves upon theatrical release, hopefully its listing here will pique your curiosity.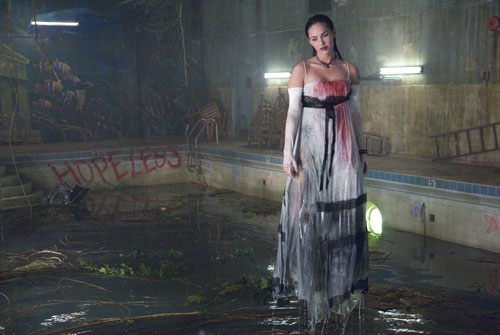 "This picture would make a lot more sense if my prom date, Jesus, were here with me."
Seen: Twice on the big screen, once on DVD
The present-day story follows young, insecure yuppie Christine (Alison Lohman), after she's cursed by an angry elderly Russian woman (Lorna Raver) at the bank where she works in the loans department.
The first several minutes of the movie, setting up the source of the curse, Christine's conundrum and the witch's wrath, flies like bats of out of hell. The pacing settles down then, letting us catch our collective breaths as Christine, her boyfriend Clay (Justin Long), and the local psychic Rham Jas (Dileep Rao), race against time to keep the curse from coming to fruition.
Comedy and horror are hard lines to straddle, and no matter how talented the filmmaker, not many can pull it off — but of course, this is Sam Raimi we are talking about here. He also did an amazing job in pushing the PG-13 rating to its most extreme.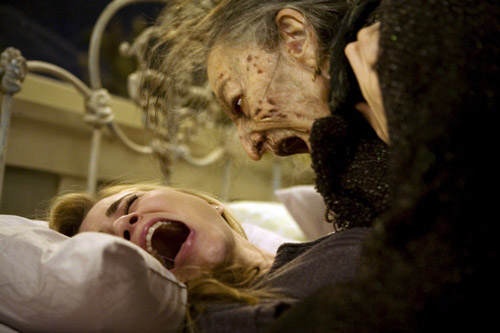 "Not the breath, please -- not the breath!"
Seen: Once on the big screen
The star of the film, Jocelyn Donahue, embodies the innocence and grace of a young woman from a bygone era. She plays Sam, a gawky, gorgeous college sophomore who's just scraping by on a wing and a prayer and trying to do her best to get along in spite of a rotten roommate and a shriveling bank balance. Sam's so desperate to change dorms, she'll take any old menial job to make the down payment — even babysitting… even when she shows up to the house and there's no infant. Of course, it turns out her misgivings should have been heeded, but then it is far too late.
Deliriously eerie, the music, the pacing, the cinematography, even the acting, is total topnotch old-style grindhouse horror. I thought it was absolutely magnificent, right down to the "gotcha!" ending (ala the first Friday the 13th). 70s-savant writer/director Ti West (whose previous films I haven't seen, and who was born in 1980) has come up with a satanic-panic stroke of genius with The House of the Devil.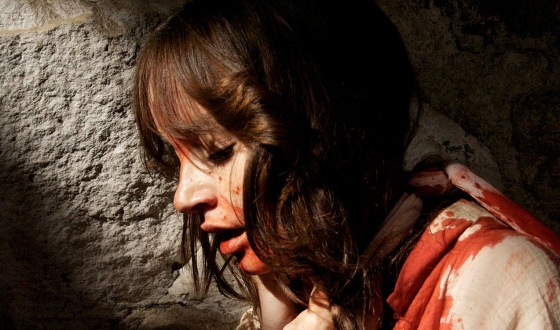 "I may have just been through Hell, but I can thank God for Aqua Net."
Seen: Once on the big screen
There wasn't a lot of "wow" factor when I saw this movie last month, but it has stuck with me ever since and its prominence has grown in my mind. That's rare — if anything, it's the other way around: I'll think a movie is pretty great while I'm watching it, then remember almost nothing of it as time goes by. Then again, not every movie is based upon a Richard Matheson short story… his work is always thought-provoking and of a lasting quality.
Set in the 1970s, the movie begins with introduction to Norma and Arthur Lewis (Cameron Diaz and James Marsden), a suburban couple with a young son named Walter (Sam Oz Stone). An intelligent duo — she's a schoolteacher and he's a NASA nerd — they are both thrown for a loop and have no idea what to do when a disfigured yet distinguished stranger, Arlington Steward (Frank Langella) shows up with an offer. He presents Norma with an innocuous-looking wooden box and tells her, quite matter-of-factly, "If you press this button, Mrs. Lewis, two things will happen. First: Someone, somewhere in the world, whom you don't know, will die. Second: You will receive a payment of one million dollars, delivered by me, tax free."
The Box
is one of the few movies out this year that carries with it a real sense of slow-burn menace and a genuinely paranoid, heavy atmosphere which slinks furtively along the lines of The Twilight Zone, The Conversation, The Shining, The Game, and to me, it is especially reminiscent of the 1970s version of The Invasion of the Body Snatchers. I can't wait to see it again.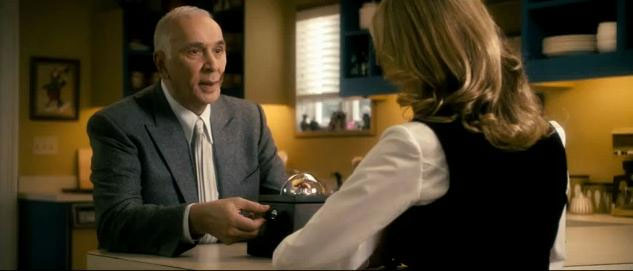 "You just wind it up, and 'Pop!' goes the weasel."
Seen: Twice on the big screen
Parnassus (Christopher Plummer) is an ageing yet immortal showman and magician whose 16-year-old titian-tressed daughter Valentina (Lily Cole), works alongside him. Turns out she owes her very life and spirit to The Devil, aka Mr. Nick (Tom Waits) and it's thanks to her dad's 1,000 year old marker that's come due (Valentina's unborn soul was sold). Parnassus is at his wit's end on how to beat the Devil until the night he encounters a mysterious stranger named Tony (Heath Ledger). An idea begins to blossom, and Tony is brought into the fold. Lily's love-struck beau Anton (Andrew Garfield) and Parnassus's right hand man Percy (Verne Troyer) take an instant dislike and distrust to the new man. But Lily is tempted… Or is she the temptress?
A Terry Gilliam film all the way, The Imaginarium of Dr. Parnassus features striking, well-drawn characters, a fluid, complex story imbued with metaphor and trickery, plus his always absolutely breath-stealing visuals. It's a MUST SEE on the big screen (out: December 25).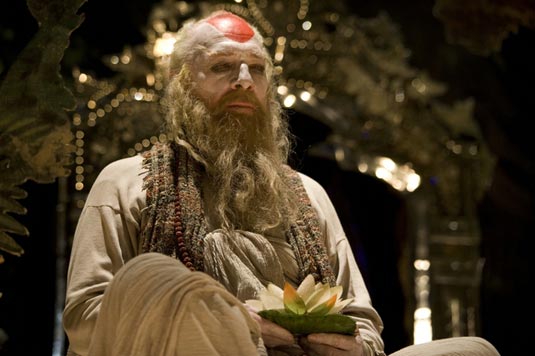 "It's nothing a little Clearasil won't take care of."