Top 5 Favorite Short Horror Comedies - Year-End Roundup

Top 5 Favorite Short Horror Comedies - Year-End Roundup
Terrific in 2009
'Tis the season to start counting down! Not to the days of a certain Christian holiday, but rather to the best and worst horror of 2009.
Here is the first in several categories I'll be covering in the weeks to come: The short film (under 20 minutes). I've seen quite a lot at the genre-specific festivals this year and although a few of the ones noted below have 2008 dates on their IMDb pages they haven't been released or widely seen till now — so I am counting them in.
Please take into consideration that I've by no means seen all of the horror shorts released this year, and also that I am limiting my picks to what I feel is the best subgenre for the short, scary medium: comedy.
Stay tuned for my favorite horror webseries, indies & limited release films, studio & wide release movies, direct to DVD, and the worst of the worst. I may even get ambitious and crack a book (Robert Englund has a bio out now, and Hammer Glamour was just released).
5) Next Caller, directed by Patrick Rea
A cynical talk radio host finds himself taking a long distance call… really, really long distance!
4) Fairytale Police, directed by Adam Green
What would have happened if Little Red Riding Hood could've been rescued by a call to 9-1-1?
3) Thirsty, directed by Andrew Kasch
Have a sweet slurp of this red stuff.
2) The Horribly Slow Murderer with the Extremely Inefficient Weapon, directed by Richard Gale
Spoonfuls of gore and giggles.
1) The Auburn Hills Breakdown, directed by Geoff Redknap
It was very difficult to choose a #1 because every single short listed here tickled me, but after much inner debate, a coin toss, breaking a tie, demanding a recount, and playing Russian Roulette with Christopher Walken, I decided…
My favorite is The Auburn Hills Breakdown, a cutting comedy which puts a rare twist on the age old story of a family whose car breaks down on a lonely highway. It may not have the slick look or be quite as accomplished as some of the other films I chose, but The Auburn Hills Breakdown has the most clever concept (especially if it's a surprise — I saw the movie unfold knowing absolutely nothing about it).
Unfortunately for us the film has not been posted online (neither has Thirsty, but at least there's a trailer and an official website). Here is a screencap of The Auburn Hills Breakdown Facebook fan page. Be sure and keep your eyes peeled (preferably Leatherface style) for this wicked and witty little satire at the film festivals.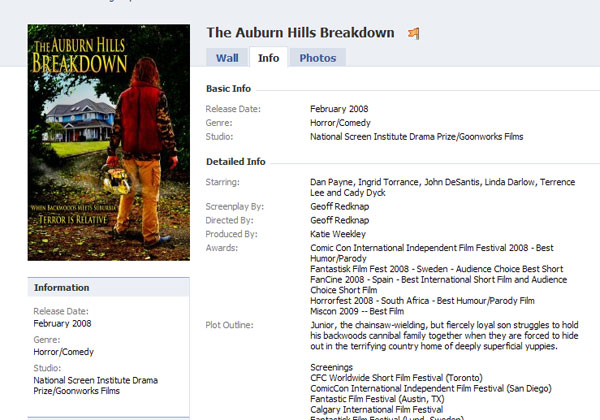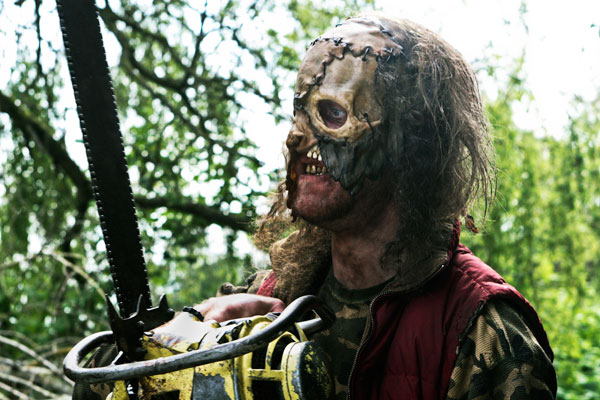 [end]