Eyegore Awards & Halloween Horror Nights Photo Report

Eyegore Awards & Halloween Horror Nights Photo Report
Exclusive pics from the October 3, 2008 event to hold you over till our video is posted!
Universal's "Halloween Horror Nights" began on Friday, October 3 and will extend over an expanded 13-night run concluding Saturday, November 1. Tickets to "Halloween Horror Nights" are on sale now at www.UniversalStudiosHollywood.com.

Horror.com was on hand for the inaugural hell-night, where we got some video interviews on the red carpet, and caught words of wisdom inside the theater of fright from this years' Eyegore Award recipients, including Roger Corman, Bill Moseley, Julie Benz, Tobe Hooper, and Gunnar Hansen. Corey Feldman MC'ed the event, which was a very well-attended smash-up of who's who in the genre. Here are a few pics taken by both reporter Staci Layne Wilson, and vidiographer Enzo Giobbe.
Bill Moseley and Lucinda Jenney. Moseley has several films coming out, including Repo! The Genetic Opera on November 7 in limited release (Los Angeles, Las Vegas, San Francisco, and New York)
Patrick Kilpatrick and Bill Malone stopped by to chat about their upcoming film, Parasomnia, which debuts at ScreamFest L.A. on October 17.
A few zombies found their way onto the dead carpet!
Lew Temple has Trailer Park of Terror coming out soon, plus another movie with Bill Moseley, called House.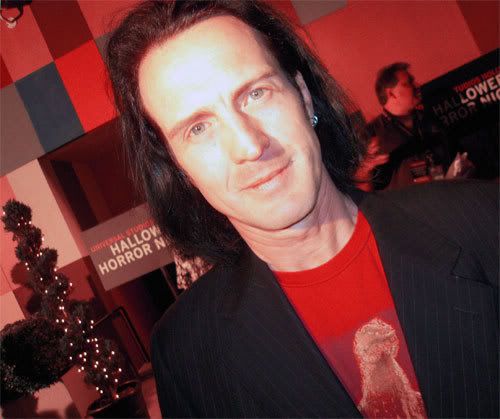 Another one caught in the web of Bill Moseley... performer Ogre, who plays Moseley's brother in Repo! The Genetic Opera, and also collaborates with him on a music CD, Devils in my Details, by OhGr, out in stores on Oct 21.
Corey Haim, who recently shot a movie at the Universal Studios Lot, using all of the great horror sets (The Psycho House, the Jaws pond, etc.), called The Backlot Murders.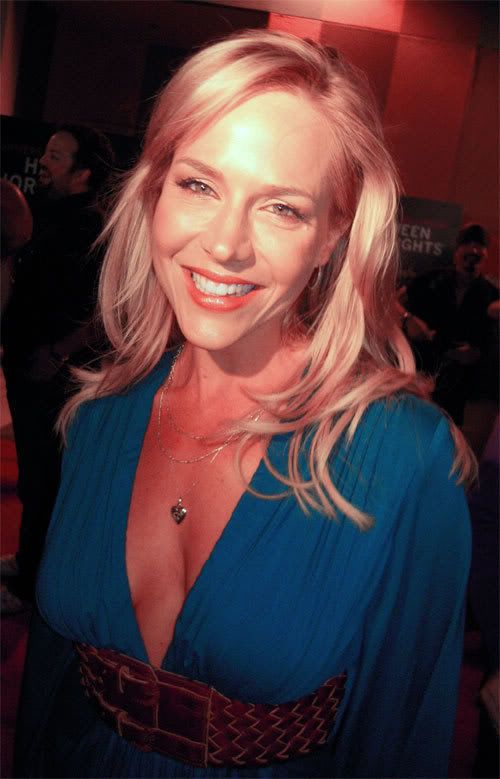 Julie Benz, who can now be seen in Season 3 of Dexter, and whose next movies are Saw V (October) and Punisher: War Zone (December).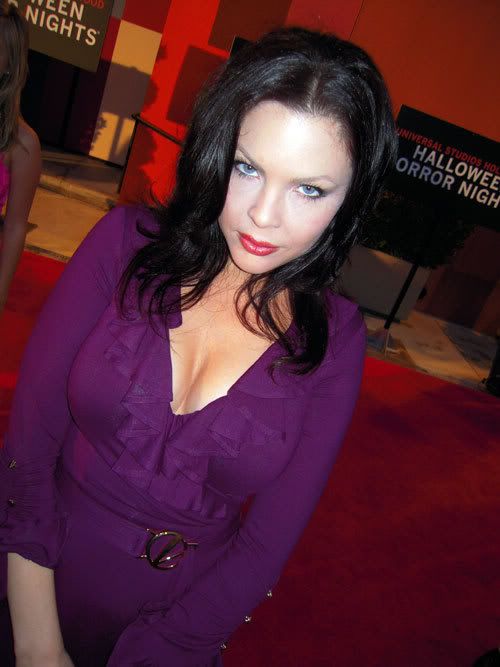 Christa Campbell has a few scary movies completed, but her next big thing is a comedy called Finding Bliss, out on October 10.
Derek Mears plays the new Jason in the Friday the 13th remake, due in theaters nationwide on February 13, 2009.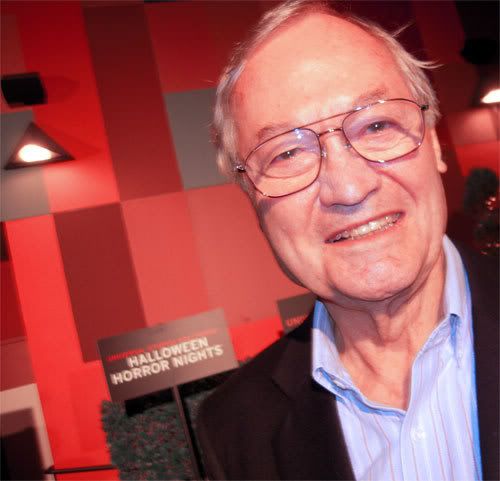 Roger Corman, a year late to pick up his 2007 Eyegore Award!
MC Corey Feldman entered the stage wearing a Halloween mask.
Two legends with their Eyegore Awards, Roger Corman and Tobe Hooper.
Cerina Vincent presents an award.
Ogre presents an award.
Bill Moseley accepts his award as Ogre looks on.
Lucky McKee scrunches, while Bill Malone stands on tiptoes, after the scaremony.
= = =
Your roving reporter and scared shooter signing off in one of the many maniacal mazes at Halloween Horror Nights!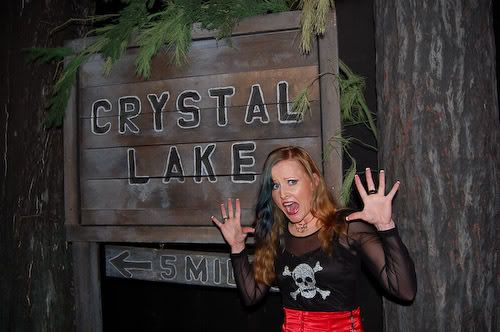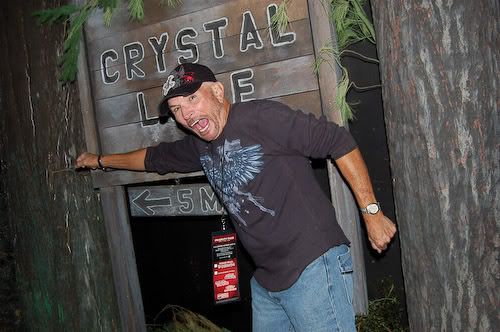 Halloween Horror Nights" will continue on consecutive weekends beginning on Friday, October 3 through Saturday, November 1. Event dates are: October 3-4, 10-11, 17-19, 24-26, 30-31 and November 1. The event will begin nightly at 7:00 p.m.; closing hours vary by night throughout the event. Tickets to "Halloween Horror Nights" are $54 and are available for purchase online at www.UniversalStudiosHollywood.com.