Party Like A Repo Star
Exclusive report and photos from the Repo! The Genetic Opera Soundtrack release party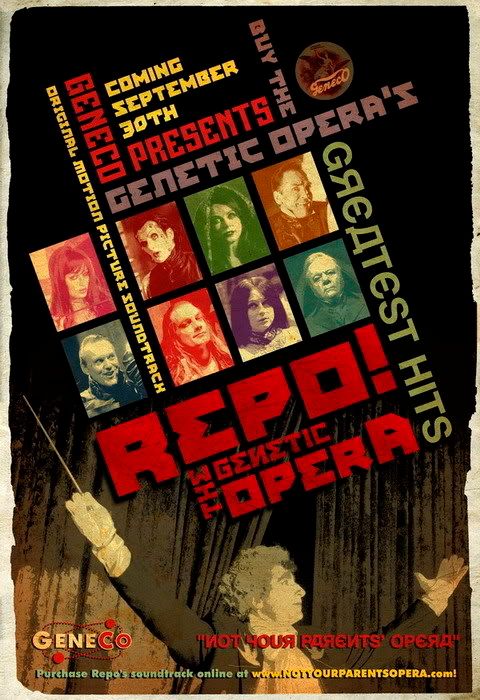 Synopsis:
In the not-so-distant future, a worldwide epidemic of organ failures devastates the planet. Out of the tragedy, a savior emerges: GENECO, a biotech company that offers organ transplants... for a price. Those who miss their payments are scheduled for repossession and hunted by THE REPO MAN. By fusing ROCKY HORROR PICTURE SHOW and BLADE RUNNER, this futuristic tale of horror modernizes the rock opera genre with original music and rich, dark production design. The movie stars Alexa Vega, Anthony Stewart Head, Bill Moseley, Ogre, Paul Sorvino, Paris Hilton, Sarah Brightman, and Terrance Zdunich.
This rock opera boasts an entirely original soundtrack that blends equal parts goth and punk rock to form an eerie and powerful musical narrative. Each of the actors performed their own songs, and the music was provided by an all-star lineup that features performances from Richard Patrick (Filter), Steven Perkins (Jane's Addiction), Clown (Slipknot), Ray Luzier (Army of Anyone), Brian Young (David Lee Roth's band), Richard Fortus (Guns & Roses), Sonny Moore (First to Last), David J (Bauhaus/Love & Rockets), Daniel Ash (Love & Rockets), Blasko (Ozzy Osborne), Tommy Clefetus (Rob Zombie's band), Melora Creager (Rasputina). Also lending her voice to the soundtrack is pop star Poe. Japanese musician and composer Yoshiki Haysahi (of the legendary rock band X-Japan) co-produced the music with Joe Bishara to create one of the most diverse soundtracks in movie history.
Soundtrack Release Party Report:
On Friday night, the weekend before the official soundtrack for the rock 'n roll sci-fi horror operatic film Repo! The Genetic Opera is officially released on Tuesday, September 30, 2008, an outrageous assortment of garish ghouls and gore-geous gals showed up at The Abbey, a popular West Hollywood watering hole, to help ring it in.
As our longtime readers are well aware, we were on-set for the final week of the filming of the movie in Toronto just about one year ago to this day. I was one of the reporters sent from California to Canada, planning on doing the Saw IV press junket and knowing that a set visit to director Darren Bousman's next movie, Repo!, was just a side trip.
It's no secret (thanks a lot, Rotten Tomatoes!) that I was not a huge fan of Saws II and III, so, in spite of always keeping an open mind, I really wasn't looking forward to IV. But I was pleasantly surprised, as my 'fresh' review attests.
I was even more impressed by what I saw on the soundstage during the filming of Repo!. I hadn't expected anything like it — a colorful, lavish, spirited, character-driven musical — from Bousman. Yes, there is his signature blood and gore, but it's presented in the manner of a satirist, not a sadist. The huge crowd scene being filmed that day featured Sorvino, Brightman, Hilton, Moseley and Ogre singing on an ornate platform at the Genetic Opera in the midst of a carnival-like atmosphere, complete with circus tents, barkers, red velvet curtains, and lots of gleaming, sharp implements of death.
As I toured the elaborate set and learned the extreme plot rundown, I immediately knew: This is for me. Even though I am known for my work in the horror and suspense genre, some of my all-time favorite movies include Hair, The Rocky Horror Picture Show, Phantom of the Paradise, Moulin Rouge!, Cabaret, Tommy, and All That Jazz.
Turns out Bousman's true, first loves are live theater and cinematic musicals. He's publically cited some of my above-noted favorites and his own most-cherished movies, along with Jesus Christ Superstar and (for the sheer cheesiness of it) The Apple. Bousman directed an incarnation the humble and ever-evolving Repo! opera back in the early 2000s, in collaboration with the story's creators, Darren Smith and Terrance Zdunich, when it was making the rounds in small venues in Los Angeles and New York.
It was Bousman's dream to bring the bare-bones stage play to the silver screen, and after lots of perseverance, he has done just that. The feature-length movie opens in limited release on November 7, 2008.
But first thing's first: The soundtrack, which will be available as a digital download on Tuesday, October 30 through Amazon.com and NotYourParentsOpera.com.
In association with Lionsgate Music, Bousman MC'ed a loud and lively listening and launch mixer at The Abbey. The stained-glass-and-pew Catholic-church décor, dark wooded walls, and plush red velvet lounge areas help to make The Abbey treasured by the locals as the social hub of West Hollywood. It's an atmospheric cocoon where patrons enjoy relaxed weekend afternoons for coffee and cocktails, and star-studded gala events by night.
It doesn't get more star-studded than an appearance by socialite, style sage, singer and star Paris Hilton, who plays "scalpel slut" Amber Sweet in the futuristic film, and who belts out a few of the more rocked-out tunes on the soundtrack. It's her vocal, along with Zdunich and Vega, on the fan-fave track, Zydrate Anatomy. The blonde beauty also lends her gutsy retorts to her ne'er do well brothers in the film, Moseley and Ogre, in a decidedly R-rated song called Mark It Up.
Hilton entered the jam-packed jamboree wearing a skintight black cat-suit corset, and she never strayed far from her boyfriend of several months, Benji Madden of the band Good Charlotte. Shortly after her arrival, she stood and addressed the house, along with her director and costars, announcing how proud she is of the film and encouraged everyone to go and see it on the big screen.
Unfortunately Head, who plays Vega's father, wasn't at the fete, but his singing performance has been singled out by many as a surprising standout. "Other people played the role onstage, and we had considered a lot of singers and actors for that role in the movie," Zdunich said, "but Anthony Head was the rock tenor we needed. Some of the actors who auditioned sang the songs in a very Broadway sense, and we didn't want that at all. We needed someone to bring a grittiness to them, and Anthony did that. And he's just an amazing actor."
Moseley, while he is indelible in the horror genre as Choptop (Texas Chainsaw Massacre 2) and Otis Driftwood (House of 1000 Corpses and The Devil's Rejects), he did have to audition for the killer character of the "singing and dancing and slicing and dicing" Luigi Largo. "They needed to make sure I could carry a tune," laughed Moseley.
Zdunich, a longtime fan of the actor's previous cult-coveted performances, said that if the groundswell of fan enthusiasm and Luigi-based screen names on the Repo-opera.com message boards is any indication, it looks as though Moseley will be able to add another signature character to his impressive oeuvres… and, he can certainly carry a tune.
While Hilton didn't bust a lung singing anything that night, we did get a few do-re-mi's from Bousman, Vega, Ogre, and Moseley, which you will see in HDC's exclusive video coverage and interviews. Stay tuned for those, plus a review of the Repo! The Genetic Opera soundtrack.
= = =
Staci Layne Wilson reporting
= = = PHOTOS © Enzo Giobbé = = =
The Two Darrens - Smith and Bousman, left to right. If only Darren Stevens could've been there, it would have been downright bewitching.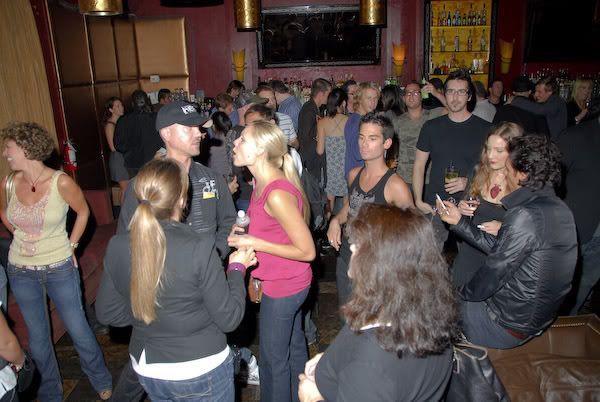 Apparently, somebody thinks pink is the new black.
If you squint, and use your imagination, Staci's necklace actually reads, "REPO". Still, Terrance Zdunich likes the "Z" (in more ways than one).
Alexa Vega poses just like James Dean.
Paris Hilton poses just like Paris Hilton.
Music producer Joe Bishara struggles to follow the witty "I don't know what to say" mic hand-off from Zdunich, who reportedly was once Captain of the Harvard Debating Team.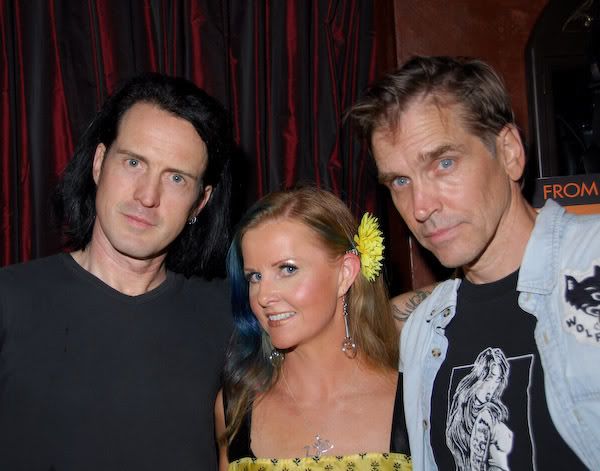 Struggling to save face, Horror.com reporter Staci Layne Wilson finds herself stuck in the middle again with Ogre (left) and Bill Moseley (right; then again, Bill is always right!).
click here for the on-camera, exclusive video interviews