Night Watch - Timur Bekmambetov Interview

Night Watch - Timur Bekmambetov Interview
An exclusive interview with Russian director Timur Bekmambetov about his film trilogy, Night Watch.
Night Watch (original title "Nochnoy dozor") is a rare film. How many Russian-language horror movies get big releases in the United States? None, other than this one, that we can think of! For that reason alone, you should check this film out. Imagine a world where cool atmospheric horror movies from all over the world get released alongside some of the lame stuff that Hollywood has been cranking out in recent years!

Enough dreaming - the reality is that a real Russian made, Russian language vampire movie is hitting U.S. theaters this weekend. And just how in the world did this happen? Horror.com knew just the guy to ask - the Russian director of Night Watch, Timur Bekmambetov. Timur might just be the new king of Russian horror. Staci Wilson sat down and had a chat with him - check out the video to find out what was said:

Night Watch - Timur Bekmambetov: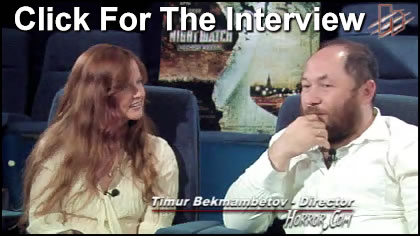 Click The Image Above To View The Timur Bekmambetov Interview.
Don't forget to read Staci's "Night Watch" review for Horror.com.!

Latest User Comments:
Re: review of Night Watch
I looked for a rating of the best horror movies and Night Watch was one of them. I knew it would be subtitles but I didn't know it would be so bad. It was definitely a B Movie: B for Bad, B for Bummer and B for BOO! It was convaluted, discombopulated, and totally inconsistent. Nor was it scary. It appeared to be a low budget film. All I can say is this: I hope the director/actors don't make a movie again too soon. Bye for now. :rolleyes:
03-08-2006 by m. larmet
discuss