Horror.com
---
IndieCon Does Horror!
By stacilayne
Created 06/04/2012 - 00:09
Saturday, June 2nd, IndieCon had, in association with the American, its first-ever Genre Seminar featuring some of independent Hollywood's most renowned horror filmmakers, stars and distributors.
Panelists shared their stories from the trenches regarding the business and creative elements to what is generally accepted as one of the most popular and self sustaining genres around. When IndieCon moderator Marc Clebenof asked the first round of experts — Producer Daniel Farrands and Scream Queen Brooke Lewis — why this is, they had rather interesting answers. Lewis said it's because horror movies evoke emotion like no other style of storytelling, and from a producerial standpoint, it's one of the few genres which does not rely on star power to be big at the box office. Horror is generally more about stories and scares than it is about character and situation. Farrands said that the genre continues to be self-sustaining throughout the years because with the exception of sci-fi, it's a culture and lifestyle for fans, unlike, say, the romantic comedy or the drama.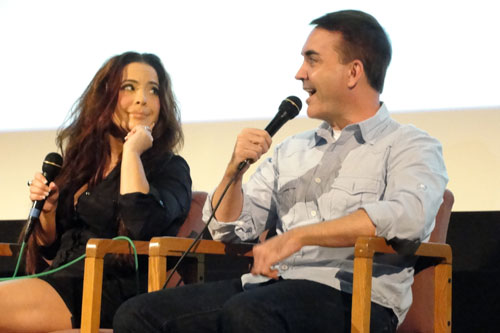 Lewis professed her love for French grand guignol films (especially Martyrs and Frontiers), and there was discussion about how the indie filmmaker, in America particularly, might write, shoot, edit market and sell domestic and foreign versions of their films. Farrands said it's very important for newcomers to do their research and to know who their audience is. "You can cut your film for an international audience," he said.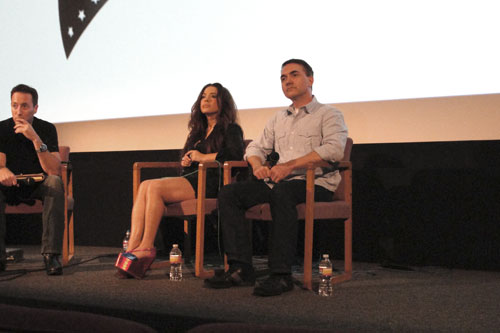 When it comes to making your first horror film, both panelists agreed that while a pricey film school education may not be an absolute requirement, some people are taking the DIY approach too much to heart. "As an actress, I've worked on independent horror films with no script super, no first A.D., and barely any structural crew," Lewis said. Farrands added that even if you have to intern to be on a few sets, its an invaluable learning experience.
After an hour of talk, advice, stories and anecdotes, the audience was asked to participate in a Q&A. There was a break, and then director Kevin Tenney (Night of the Demons) and actor Courtney Gains (Children of the Corn), went up onstage for round two.
IndieCon offers seminars, workshops, and panels regularly in the L.A. area. For more information, please visit their official website - http://www.indiecon.com/
---
Links:
[1] http://www.indiecon.com/workshop.php
[2] http://www.imdb.com/name/nm0268107/
[3] http://www.imdb.com/name/nm0506989/
[4] http://www.imdb.com/name/nm0855107/
[5] http://www.imdb.com/name/nm0301381/
[6] http://www.indiecon.com/