As editor (and bestselling author in his own right) John Skipp says in the foreword of the newest zombie short stories collection, there is just something scarier about the horror genre in the written word. That something is the reader's imagination.
In his column for Entertainment Weekly magazine, uber-storyteller Stephen King admits to getting figurative wood over literary wood pulp (my words, not his… mine are a lot cheaper) — he likes to hold a book in his hands to read, to touch, cradle and prop. While there is better living through electronics in this cyber-era (audbile.com, Kindle, books on cassette and CD… you name it), it's true: there's something about looking at a book cover, feeling its texture, opening it, and holding and turning the pages as you read words that another person has cared enough to write. And more people have believed in enough to publish, design and distribute. It's got weight, in every sense of the word.
This month, what with Halloween hot on our heels, Horror.com has received several books to review. There isn't enough time in the world to read each of them by 10/31, but here's a smattering of the ones I liked and recommend.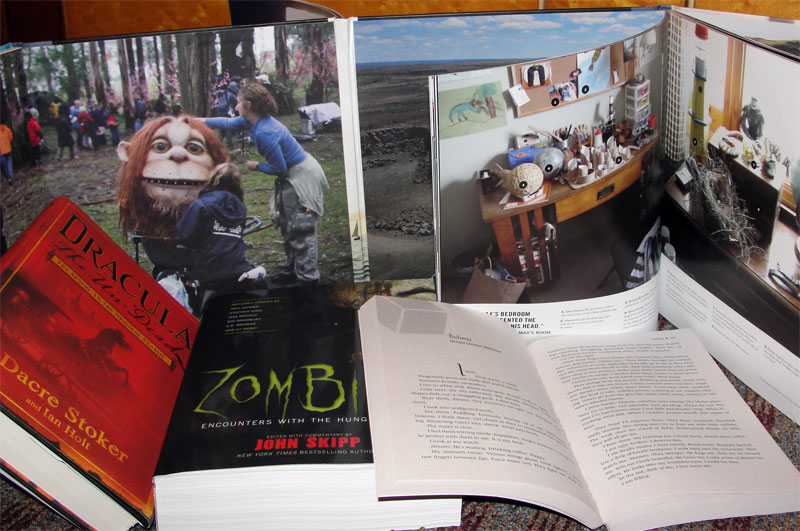 Hellbound Hearts
Short stories inspired by Clive Barker, introduction by Stephen Jones. Softcover.
With 21 tales boxed up like so many grim little gifts, it's impossible to talk about all of them in detail here. But I will say that two standouts — each a polar opposite of the other, yet you can easily get the Hellraiser tie-in — are Prisoners of the Inferno by Peter Atkins, and Only the Blind Survive by Yvonne Navarro.
Prisoners of the Inferno opens on a pair of collectors of arcane movie memorabilia combing through the dealers' wares at an L.A. horror convention. Jack ferrets out a photo from the 1930s, an original print (probably stolen from "Forry's" collection — a little insider nod, among many in the story) from a lost film called The Cabinet of Dr. Copplius. The Cabinet of Dr. Copplius is actually the re-titled version of the severely edited Prisoners of the Inferno, a reel so evil that it actually killed people. That's the version Jack really wants to see. And he gets his chance. But of course as everyone knows, satisfaction is the death of desire.
Only the Blind Survive starts off not in first-person, yet directly from the point of view of young Native American scout Wikvaya. Wikvaya, soon to be married and with his whole wonderful life ahead of him, is exploring the area outside his village one day when he stumbles upon a shifting sand pattern. Sort of a mesmerizing

kaleidoscope

of soil in the ground… transfixed for hours, but seemingly unharmed, he returns to village to warn the elders that their dark prophecy has come to light. When the tribe goes to investigate, they discover something otherworldly has emerged from the so-called sand painting… something with "cactus-spine lips" and an insatiable hunger for human blood.
I really enjoyed the introduction to Hellbound Hearts, written by Stephen Jones. Jones is an all-around horror maven — and not of the light variety; he's the winner of three World Fantasy Awards, four Horror Writers Association Bram Stoker Awards and three International Horror Guild Awards as well as being a 20-time recipient of the British Fantasy Award and a Hugo Award nominee — but what I didn't know is that he was the Unit Publicist on Clive Barker's 1987 directorial debut, Hellraiser. Jones was a newbie at the time, as was the on-set interviewer for the EPK… none other than the now-iconic Neil Gaiman. There are lots of other zippy insider stories from Jones, before the anthology kicks off with its 21 tales by as many authors.
Zombies: Encounters with the Hungry Dead
Short stories edited by, and with commentary from, John Skipp. Softcover.
When compared to ghosts, vampires, witches and the like, I don't care for zombies a whole lot. But the editor of this compendium of 32 new and classic stories from both renowned writers and rising stars — bestselling author and a founding father of splatterpunk, John Skipp — sure does. And he makes a really good argument for them in his foreword, entitled "The Long & Shambling Trail to the Top of the Monster Heap." (In fact one of the few novels I've read that made me think zombies could be sorta sexy is Skipp's own 80s opus [co-written with Craig Spector], The Scream, which is about undead rock stars on a never-ending tour.)
Skipp's inviting, conversational opening paragraphs are easygoing, seductive and spellbinding… the antithesis to the grunting, groaning, graceless creatures of which he speaks. He sees zombies as the underdogs of the genre, finally crawling up from their graves and infecting our popular culture as well they should. Skipp traces the Z-word back its origin (in a story from 1819) right up to the first very-popular cinematic germ (Night of the Living Dead, 1968, in which they were called "ghouls"), and beyond into today.
What's more (and I love this) each of the 32 short stories has a preceding paragraph of "commentary" from Skipp on why that tale was chosen and what he himself likes about it. His perspective is unlike mine; therefore I learned and was able to think differently about each story than I might have, otherwise.
One of my favorites in the book is an early 80s gem from the sultan of scares, Stephen King. The story is entitled The Return of Timmy Baterman and reading it transports one's mind to a dark room illuminated only by a single voice. Jud the speaker — more a narrator within a narrator in this cleverly constructed chestnut — is an old man with a pressing tale to get off his chest. It was the 1940s, he says, and boys were dying in World War II. Most of them were buried where they fell, but the special ones, the medal-honorees, were shipped home. The remains of Timmy Baterman are properly sunk into the ground of the small town where he grew up, but a few days later, people start seeing him around. He's pale, ghostly, and his "eyes were like raisins stuck in bread dough," says one chilled witness. But Timmy's father thinks the wrong body was interred. After all, "Timmy come home the other day. He's been shell-shocked or something. He's a little strange now, but he'll come around." But Timmy knows things. Personal things. Things about Jud… [Note: this story is a standalone excerpt from the novel Pet Sematary.]
Another great yarn from the book, a total turnabout tonally, is Zombie's Lament by S.G. Browne. In his intro, Skipp describes the hero (for lack of a better word) as "the Holden Caulfield of zombiedom." The quite-short story is in first person, during which the dead… er, undead man talks about his lot in life — such as it is. Mortals are "Breathers", while the politically correct term for zombie is "Survivor". It's not easy being a Survivor. Once you've been declared legally deceased you no longer have a social security number, no insurance company will take you on, and even homeless shelters will turn you away. How can you mend the bones that were broken in the accident that killed you, when you can no longer heal? And how do you get rid of your persistent B.O.? Even Secret isn't "strong enough" for flesh-rot. What's a dead man to do? Well, read Zombie's Lament, and you'll find out. [Note: S.G. Browne's story was the inspiration for his novel Breathers.]
Heads On & We Shoot: The Making of Where the Wild Things Are
Triptych movie book, introduction by Spike Jonze and Dave Eggars. Hardcovers.
This oversized, very unusually-crafted hardback (and hardmiddle) book published to coincide with the worldwide release of director Spike Jonze's movie version of Maurice Sendak's classic children's graphic novel of the same title, is one of the more ambitious print projects I have seen.
Most making-of books are quite complete but this one is beyond dense, delving into everything from the concept art of both the book and movie, script, mo-cap, editing, etc. — but also interviews with the actors, filmmakers and writers, each presented in at-at-glance layouts and using their own handwriting. Without the smart design and A-to-Z approach, Heads On & We Shoot would be altogether intimidating — especially for someone like me (who never read the original fable and who didn't love the movie). I liked this book a lot. Not only is it beautiful (it's true, the monsters in both the story and onscreen are visually striking), but it's informative.
I learned that Sendak's original idea was for a book called Where The Wild Horse Are… and then he discovered, to much dismay, that he couldn't draw horses. I like the pull quotes from everybody, sort of distilling them as people (Sendak says, "You don't make up stories. You live your life."), and also the checklist of their personal interests (who'da thought child actor Max Records is a fan of the rock opera Jesus Christ Superstar?).
Dracula: The Un-Dead
Novel by Dacre Stoker with Ian Holt. Hardcover.
Here's the sensuous, tactile touch of the tome I was talking about. Dracula: The Un-Dead feels like a real book. Its thick, coarse, deep red and artful dust jacket envelopes a sturdy hardcover tome with weighty, serrated-cut paper pages with an assured font and some nicely-placed, understated embellishments sprinkled throughout the text.
Written by Dacre Stoker (the great grand-nephew of Bram Stoker, the author of the seminal monster masterpiece) and Ian Holt (a foremost authority on Dracula legend and lore), this meticulously researched historical novel and sequel… dare I say it? Yeah… breathes new life into the old Count's corpse. Bloodsuckers have diverged so greatly from their literally origins (I love bottle-slurping "Vampire Bill" and the sunbathing Blade butt-kickers, but let's face it: they're not classic) it's actually true that everything old can be new again.
The story starts with a cursive letter from Wilhelmina Harker to her son Quincy, to be read only in the event of her untimely or mysterious death. We're reading it, so guess what? After the prologue, we launch into the beginning, entitled Lucy, Oceans of Love. This is from Dr. Jack Seward's point of view, as he contemplates his ageing, wasted body in its stark, morphine-soaked contrast to the expensive Wallingham & Sons tailored suit which clothes it.
Seward — all but destroyed from his youthful encounter with the undead Count and the demise of Lucy, his one true love, at the point of those infamous fangs — hasn't let his obsession expire. Like a mad packrat, he's saved articles from those times, from the Jack The Ripper Case, and even ones predating his own birth: documentation of the crimes of the Countess Elizabeth Bathory, thought to be the very first bloodsucking ghoul. Executed for her crimes. But maybe not dead. Seward looks around his derelict, dingy room, lost in reveries until he realizes he is late for an appointment. He dashes out, his body protesting but his mind surging as he boards the train to meet his fate.
The writing style is florid, almost reeking of romance novel, but it's perfectly apropos here. The hyperbole fits. The high level of suspense and the scrupulously researched details will definitely keep you turning those nice, thick pages till you reach the very last one.
The above-reviewed books are available (signed, or not) through Dark Delicacies Bookstore
DARKDEL.COM
, Amazon, their respective publishers, and et ce.
In addition to the above, there are a couple of illustrated novelettes being eked out little-by-little in installments, each inspired by wicked womanhood.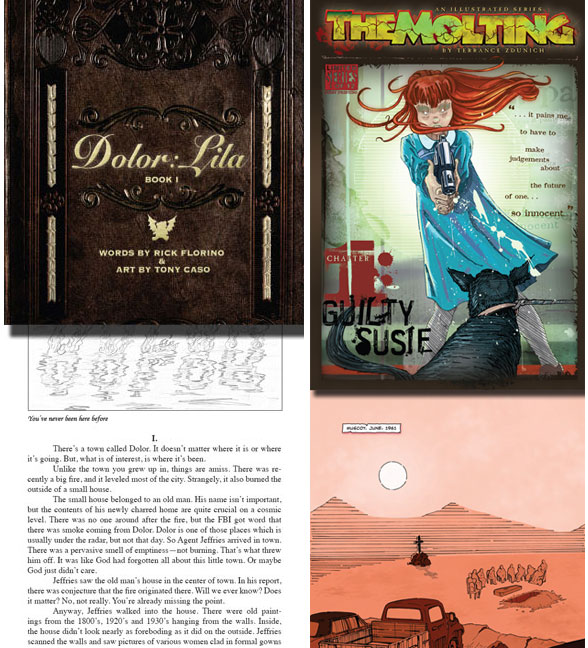 Book of Dolor: Part One, LILA
written by Rick Florino and illustrated by Tony Caso
Officer Caleb Taylor is going through Hell. He hasn't slept in days, his wife has disappeared without word, he's on a forced leave from active duty and he can't shake the guilt he has over his daughter's drowning.
All of a sudden, in his haze of insomnia, depression and anxiety, something stirs him from beyond the grave. It's something dark, demanding and downright evil. Can he trust it? Is he really seeing it? Why is this happening? Can we trust him?
The Molting: Chapter One, GUILTY SUSIE
written and illustrated by Terrance Zdunich
A cache of cockroaches observe unspeakable abuses from the shadows, mute witnesses to suddenly-orphaned Susie and Tony Deveraux's chaotic new existence.
The grief-stricken sister and brother move into the ramshackle home of their closest relatives - lecherous Uncle Henry and slovenly Aunt Melinda - only to find that they were taken in not out of familial love, but greed. An insane greed which inevitably leads to further death and irreparable devastation.
In the end, the cockroach husks wither in the wildfire which razes everything, even Susie's own sanity, to blackened cinder.