Exclusive "Godsend" Interviews

Exclusive "Godsend" Interviews
Staci Lane Wilson sits down with the director and stars of the upcoming thriller, "Godsend".
"Godsend", the new science fiction thriller from director Nick Hamm, opens later this week (Friday, April 30th.) The film stars Robert "You Talkin' To Me?" De Niro, Rebecca "Mystique" Romijn, and Greg "Horror.com editor can't think of a catchy nickname" Kinnear and revolves around the issues of love, loss, cloning, ethics, good, evil, and the human soul. When Romijn and Kinnear's son dies in the film, De Niro offers them some seemingly impossible hope, but at what cost?

Staci Lane Wilson sat down with the director and some of the stars to find out more: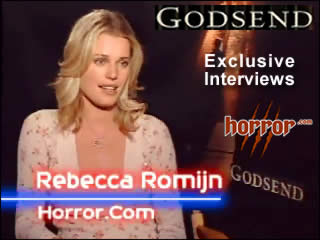 Click The Image Above To View The Interview Video.
Latest User Comments:
it was a good thumbs up!!It was excellent i would recommend thid book!!!
05-10-2004 by scarywitch
discuss