The Long Last Call - Set Visit Report & Interview with John Skipp

The Long Last Call - Set Visit Report & Interview with John Skipp
Aside from having a cute and catchy name, John Skipp is widely acknowledged as one of the innovators of contemporary horror. In 1986, his punk vampire- in-the-subways novel The Light at the End (with Craig Spector) hit the New York Times bestseller list, helped launch the splatterpunk movement, and inspired the character of Spike in Buffy the Vampire Slayer. My favorite book of theirs, which I read back in the day, is called The Scream, and is about a heavy metal band who just happen to be undead (as one reviewer on Amazon says, "It's Twisted Sister meets Clive Barker!" I can still remember one of my favorite descriptions in the book, even though I haven't picked it up since: the living corpses sweated, but like cheese. Ugh!).
Their 1989 anthology Book of the Dead was the beginning of modern post-Romero zombie fiction.
After their script for A Nightmare on Elm St. 5: The Dream Child was FUBAR'ed, the duo moved to Hollywood, wrote one more book (Animals), and promptly parted ways. Then Skipp disappeared from the scene. Where was Skipp in the 90s? One can only speculate, but it will make for a wicked E! True Hollywood Story, I'll bet. Or perhaps we can resurrect Robert Stack for just one more… dramatic pause… Unsolved Mysteries.
Skipp returned in 2002 with a solo collection, Conscience. (Hm… something cathartic, alluding to those lost years?) This is about the time I first met him, and subsequently, he and I have done a few book signings together at Dark Delicacies (we were both in several of the stores' anthologies, though he and I have yet to collaborate — I've put in my official request though, and taken a number).
He's published 13 new titles since, including the coked-out zombie fungus epic Spore (with Cody Goodfellow, and which I loved… so crazy!) and Bizarro adventure favorite The Emerald Burrito of Oz (with Marc Levinthal). He also edited the massive landmark anthologies Zombies, Werewolves and Shapeshifters, and Demons, with Psychos due in September; launched his own Fungasm Press, devoted to wild fiction that defies all categories; and has embarked on a career as a film director with Rose: The Bizarro Zombie Musical, Stay At Home Dad, and The Long Last Call, all co-directed with Andrew Kasch (Thirsty, Never Sleep Again: The Elm St. Chronicles).
I was lucky enough to be on set the other night, all night, at a rundown, seedy strip club in Van Nuys. Wait. Did I say "lucky"? By lucky I meant… yeah: lucky. It was a really fun night, spent with friends and familiars, including not only Skipp and Kasch, but also Emma Jacobs (who acted as the objet d'sire in a short film of mine, The Night Plays Tricks), my favorite exotic dancer from Jumbo's Clown Room - Kelly Cole, Matthew Currie Holmes, Todd Farmer, and D.P. Buz Danger Wallick (who also hosts the podcast Same S**t Different Show, on which I have been a guest, as have lots of friends... my favorite is the Jimmy Hemphill interview).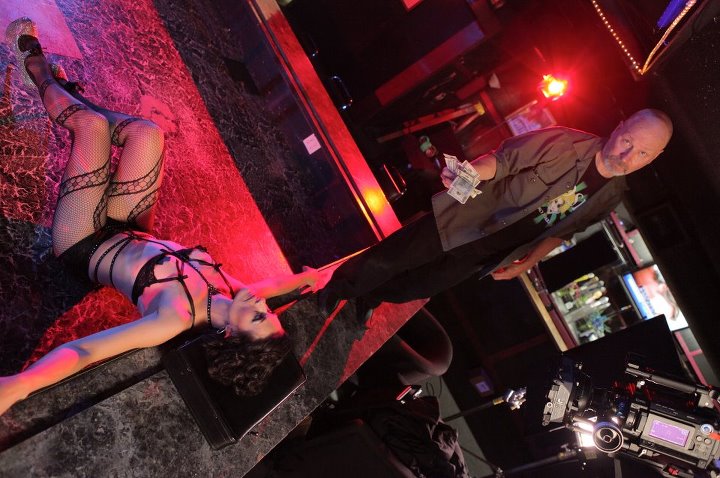 Kasch money! John Skipp with Kelly Cole, photo (c) Justin Cruse
Staci Layne Wilson: How did the idea for The Long Last Call come about?
JS: I spent the last six years of the twentieth century in a tiny apartment at the edge of Hollywood, and the nearest dive bar within walking distance was the legendary strip club Jumbo's Clown Room. So every once in a while, when I needed a break in my nightly writing, I'd wander down and watch the strippers for half an hour, have a beer,
and go back to work.
At the time, I was focused on writing myself a cool low-budget feature to direct: tight story, one location, ensemble cast of colorful characters imploding in real time. And Jumbo's blend of weird creepy pathos and eye-popping visuals came together in my head. The way the war between the sexes plays out in joints like that had a thematic
resonance that spoke to me. And I went, "Ya know, this would be a great place to set a fucked-up horror story." (laughs)
I moved it to backwoods America, just to scrape the Hollywood off it, and wrote a script that attracted some attention (Stuart Gordon, in particular, really wanted to produce it). But nobody was ready to hire me as a first-time director, and I didn't have the wherewithal to produce it myself.
So after a while, I wrote it as a book, just to get the story out there. And it's gathered a lot of fans. But for me, it was always about making the movie.
SW: How did you meet Andrew Kasch, and what is it about him that makes you feel he's the co-director to best help interpret your story?
JS: I met Andrew through Never Sleep Again: The Elm St. Legacy, when he called me in to recount my hideous experience writing the first draft of A Nightmare On Elm. St. 5: The Dream Child. ("Do I get to tell the truth?" I asked. "Yes, please!" he said.)
It was a great experience, on a great movie. And after Never Sleep Again's mega-signing at Dark Delicacies (their biggest one ever), Andrew took me aside and said he really wanted to work with me on something. So we shot some pool, and discussed the possibilities, and in the process became fast friends.
Long story short: his work as film editor on Rose: The Bizarro Zombie Musical proved that we made an excellent team. He's a terrific hands-on filmmaker, utterly in love with and passionately devoted to the medium, rigorously gifted on the technical end, ridiculously hard-working, bursting with great ideas, and incredibly fun and easy to collaborate with.
Co-directing the insane short film Stay At Home Dad (currently winning big laughs and awards on the festival circuit, from a script by the brilliant Cody Goodfellow) kind of sealed the deal. So now we're developing an entire slate of co-directed features, including Rose, The Long Last Call, Jake's Wake, and a shitload of others it's too
soon to mention. I fucking love that guy, and can honestly say that my filmmaking career truly stepped up to the plate the moment we started digging in together.
SW: Have you been working on getting The Long Last Call made into a film for awhile now? What keeps you going?
JS: A full decade later, what keeps me going is knowing what a crowd-pleasing kickass film this is going to be. Everybody who's read it knows it. Now it's up to us to deliver the goods.
SW: Tell our readers a little bit about what we saw the other night, filming your teaser trailer for The Long Last Call (what's it for? — Investors? Kick-starter? — who's in it? How do you find the balance between showing enough of the story to entice, without telling all?)
JS: This trailer sort of trash-compacts the essence of The Long Last Call into 90-some seconds of delirious excitation, so that both audiences and investors can say, "Damn, I wanna see that film!" Our goal is to nail the vibe – the intensity, velocity, horny violence,
emotional complexity, cinematic chops, and will to wildly entertain – without giving away the deeper twists that hopefully make it more than a superficial entertainment.
Bottom line: we wanna galvanize our audience, and make investors feel good about laying down the roughly-a-million bucks it will take to make this happen. So no. This ain't a Kickstarter thing. We'd like to bring this one out without asking for anything but bodacious longing.
SW: My longing is bodacious. No lie. So, since you're kind of used to jumping without a net, I've gotta ask: what do you think about the opportunities vs the limitations for indie and DIY filmmaking these days? Are things better, or worse, now for indie horror?
JS: I'm an indie outsider by nature. An inside/outsider, by virtue of having somehow sold millions of books to thrill-seeking thoughtful abnormals who give a shit about what they willfully, culturally absorb. There are a lot of us, as it turns out. It's a pretty big, wide-ranging tribe.
Right now, I wanna make the kind of cool, iconic low-budget indie horror films that smart, fun, movie-loving people fall in love with, and Hollywood longs to expensively, crappily remake at some point down the road. (laughs)
Because film is the most expensive art-o-tainment medium on Earth, most of the riskiest innovations get test-driven at low budgets. The good news is, high-end technology has never been cheaper or more accessible. Living in a town that is crawling with hungry, phenomenal talent and affordable gear makes this feel like a new golden age, for those who know how to grab the reins.
Breaking through has always been a struggle, and always will be. But fuck it. There's never been a better time to throw down.
SW: Well, alrighty then! What else are you working on?
JS: On top of all that, I've hired as editor-in-chief of Ravenous Shadows, a new e-line of lean, mean horror/suspense/mystery/crime/thrillers with no fat or filler. We are introducing a fresh wave of writers who will scare your socks off in the time it takes to watch a feature film.
If you're interested in checking out the source material for The Long Last Call, here's the official party-line:
IT'S THE DEGRADEST SHOW ON EARTH!
It's closing time at a backwoods strip club, somewhere in America. Business as usual, until an elegant stranger comes onto the scene: chumming the waters with a briefcase full of cash, and a dark agenda all his own.
Because he is no mere human being. He is a walking repository for all of the anger and hate that men and women feel toward each other. And every scum-soaked dollar he hands out only serves to up the voltage on the war between the sexes. The have and have-nots. The lovers and the haters.
The result is a blood-soaked, horny and horrifying monster-bash - THE DEGRADEST SHOW ON EARTH - that builds to a shocking and soul-stopping grand finale.