Thanks for the review. No, I don't think the film is honestly the worst ever, but its pretentiousness and overall "serious" intent backfire and make it laughable, and of course superbly boring.

The goat fight is a hoot. Regarding the subtitles, apparently the original prints of the film were lost, and a few years later, a French version was found in which French language titles were overlaid. Later, the English words were superimposed but the blacked-out zones are impossible to fix.

I liked how the incubus brags about the sister "she has no tongue" and then she's able to speak to her brother. And the full solar eclipse followed that very evening by a full moon.

I also never figured out how Shatner was so badly wounded in the fight. I think he got punched out a bit but otherwise don't know his injuries -- maybe injury to the "soul"? hah. And if faith is your shield, why is the sister wounded? She stays "good" as far as I can figure, so she should be "immune" from evil, unless she strays. Oh, well, not a lot of the movie makes much sense.

I've learned over the years that if I don't understand a plot sequence or theme or some other part of a movie, it's not because I'm dense -- it's because the makers simply screwed up. I'm not bragging but I've got a degree in English lit, have read Joyce's "Ulysses" maybe a dozen times, and have a decent amateur library on the great novel. I wrote my thesis on Hamlet. I've written magazine articles and book/movie reviews, one novel, lots of short stories, etc etc. Plus I have a degree in analytical chemistry and worked in high tech jobs for 30+ years.

Not bragging, just stating my bio, a way of indicating that I can spot goofy or dumb movies and it's not "over my head" but simply wrong in most cases.

Anyway, no, true, I've seen worse horror movies than Incubus but none that are so deadly serious about making a "meaningful" movie --- excuse me, "film". ha ha

Compare this with "Night of the Demon" that stands up logically and all makes sense throughout. Eh.
__________________
______________________________________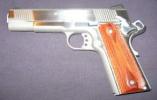 Caliber .45. Works against zombies and most everything else.
---
Last edited by katdad; 09-25-2010 at

06:20 PM

.